Sautéed Zucchini & Chickpeas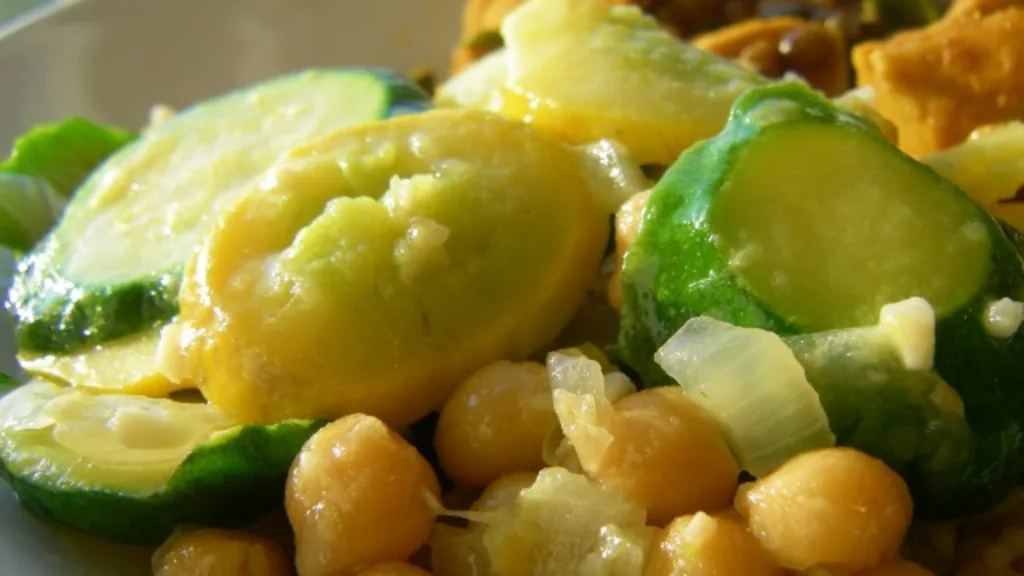 Ready In:

25mins

Ingredients:

6
directions
Heat oil and butter in a deep (preferably non-stick) pan over a medium heat until it begins to foam.
Add the zucchini and cook, stirring occasionally, for 5 minutes, until slightly browned.
Add the chickpeas.
Place a circle of non-stick baking paper directly on the surface of the zucchini and chickpeas. Reduce the heat to medium-low and cook for 8 minutes or until the zucchini is soft. Taste, and season with salt and pepper.
To transport: Cool then place in an airtight container.
To re-heat: Heat sautéed zucchini and chickpeas in a deep pan over a medium heat, stirring often, for 5-7 minutes or until heated through.
Microwave reheating: Spoon the zucchini and chickpeas into a microwave-safe bowl, cover with lid or plastic wrap and heat on medium, stirring every minute, for 4-5 minutes or until heated through.
Join The Conversation
Delicious! Since some other reviwers suggested that the grated zucchini was mushy, I thinly sliced mine instead. I used small zucchinis, about 4 cm diameter. I used one yellow, one green. I also added in the suggested onion and garlic. This was an absolutely melt-in-your-mouth dish, and had a buttery smooth flavor, too. Simple flavors, perfect for summer zucchini overload! Thanks, bluemoon downunder!

I had mixed reactions to this dish. I lovedd the flavorful simplicity of the zucchini and chickpeas together and made a light weekend lunch out of this dish. I grated half an onion into the zucchini which turned out to be good addition. My one concern about this recipe was that the texture of the zucchini. I used the coarsest cut on my box grater and my squash was a bit on the mushy side and never crisped or browned in any fashion. I think it would have worked better had I wrung the vegetable ahead time or instead used a fine julienne. Despite this drawback I will certainly play with this combination again. Thanks bluemoon.