teresas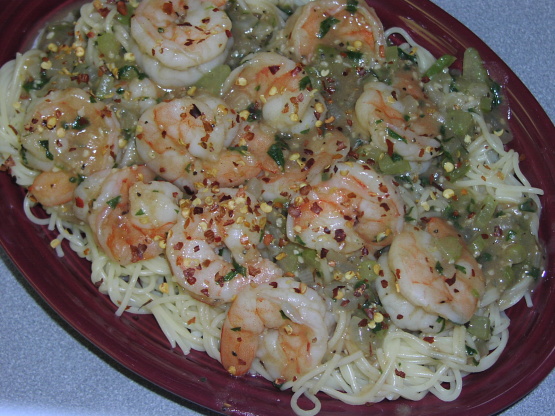 This is a spicy, roux based, shrimp dish and is great served over rice or pasta.

I can't believe no one has tried this yet..We had this on New Years Day. I know, not very traditional but I'm glad we did. This was delicious! I will save this recipe for Summer meals though because it is so light and refreshing. I used the shrimp broth instead of the clam juice. I forgot to add the lime juice at the end of cooking, so we just squeezed it on our individual servings. Served it over rice.This is a good one to include in a Mexican themed meal. But it actually only served 2..We went back for seconds!
Melt butter in a large skillet over medium heat.
Stir in flour and cook 3 minutes, stirring constantly, to make a golden brown roux.
Add onions, celery, jalapeno and garlic.
Cook 3 minutes.
Gradually stir in clam juice (or shrimp broth).
Add cilantro, salt and pepper.
Cook 1 more minute.
Add shrimp and toss to coat.
Cover skillet and cook 3 minutes, or until shrimp is pink and no longer translucent.
Remove from heat, add lime juice and season to taste. (Tabasco is our preferred seasoning)
Serve immediately with cooked rice or angel hair pasta.