Chocolate Cream Cheese Pie
alligirl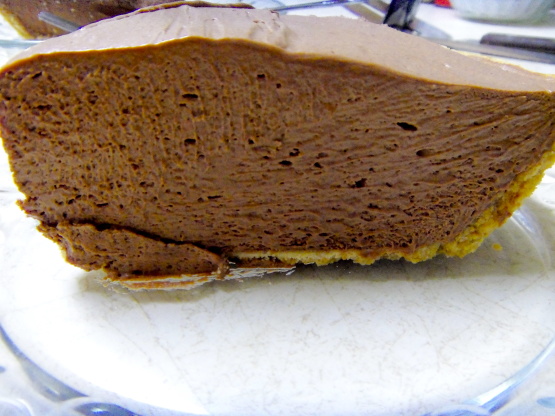 I mean I rarely have time to make a cheesecake. This will do. from cooksrecipes.com. Cook time is chill time.

This is a rich, rich pie! YUM! Sooooo smooth and creamy, it is a great sub for a cheesecake! I'm sorry that my photo doesn't do it justice; I may try again, for a better shot, providing I get another slice! ;-) I did follow the recipe, as directed. Thanks so much for sharing a fab pie recipe, ~SarahBeth~!
In a small saucepan, heat chocolate chips and milk over low heat, stirring until melted. Let cool.
In a large bowl, beat together sugar and cream cheese.
Add chocolate mixture and beat until smooth.
Fold in whipped topping to blend.
Spoon mixture into pie crust. Freeze about 4 hours to set.