Rita1652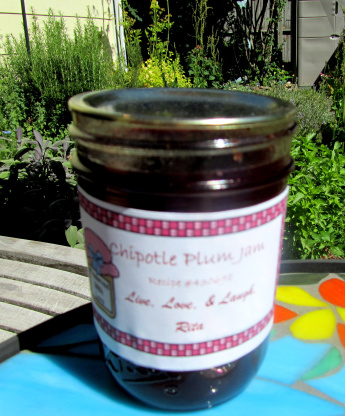 Oh YES! ;) That is smokey, spicy, sweet, tart jam. Orange and chipotle go so nice togeter. Glaze a pork roast, BBQ chicken pieces, spread it over cream cheese for an appy or on a pork or chicken sandwich.

Temperature test The jam is ready when the temperature registers 105ºC (221ºF) on a candy thermometer. Simply immerse the thermometer in the jam shortly before the specified cooking time is completed, keeping it away from the base and the sides of the pan. Leave in position until the temperature has been reached. Boil a little longer if necessary. Saucer test Drop a spoonful of the jam on to a chilled saucer and leave to cool slightly. Push your finger through the jam: if the surface wrinkles, the jam is ready. Return to the heat and boil a little longer if necessary. Flake test Using a large wooden spoon, lift a little of the jam out of the pan. Let it cool slightly then tip the spoon so that the jam drops back into the pan. If it has been boiled for long enough, drops of the syrup will run together along the edge of the spoon and form flakes which will break off sharply. Boil a little longer if necessary.
Place all ingredients in a pot and bring to a boil.
Cook rapidly to the gelling point.
As it thickens stir frequently to prevent sticking.
When it's at the gelling point remove and pour into sterilized jars with a 1/4 inch head space.
Adjust caps and process for 15 minutes in a water bath.
Turn off flame and remove lid. Let sit 5 minutes.
Remove to a draft free spot and leave for 12 hours. Remove rings and wipe jars, label, store in a dark pantry and enjoy!