Carbonara Chicken Risotto
Veluet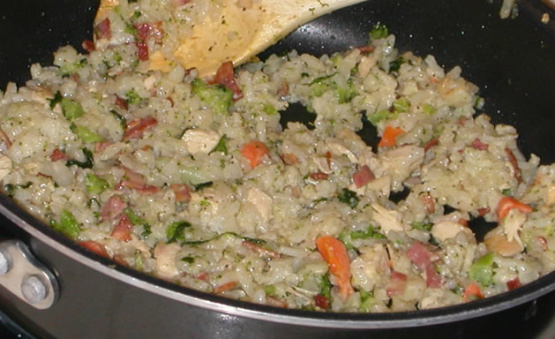 Chicken in a lucious cream sauce flavored with bacon and Parmesan cheese served over herbed rice.

Top Review by thorn
MMMM mmmm good! When I sat down and put the first bite of this in my mouth, I was shocked and amazed that something so good had actually been made in my kitchen! The only subtitutions I made were to use brown rice, and mushrooms instead of peas. thumbs up!
Cook rice according to package directions.
Cook bacon in a large skillet until crisp, remove with a slotted spoon and drain on paper towels.
Season chicken with salt and pepper, brown on all sides in 2 tbls of the bacon drippings.
Add garlic and cream, simmer until cream begins to thicken.
Add peas and simmer until peas are heated through.
Reduce heat to low, add 3/4 of the cheese, stir until melted, add the remaining cheese if needed to thicken the sauce.
Serve over risotto, top with bacon and extra cheese if desired.