Mediterranean Chicken Risotto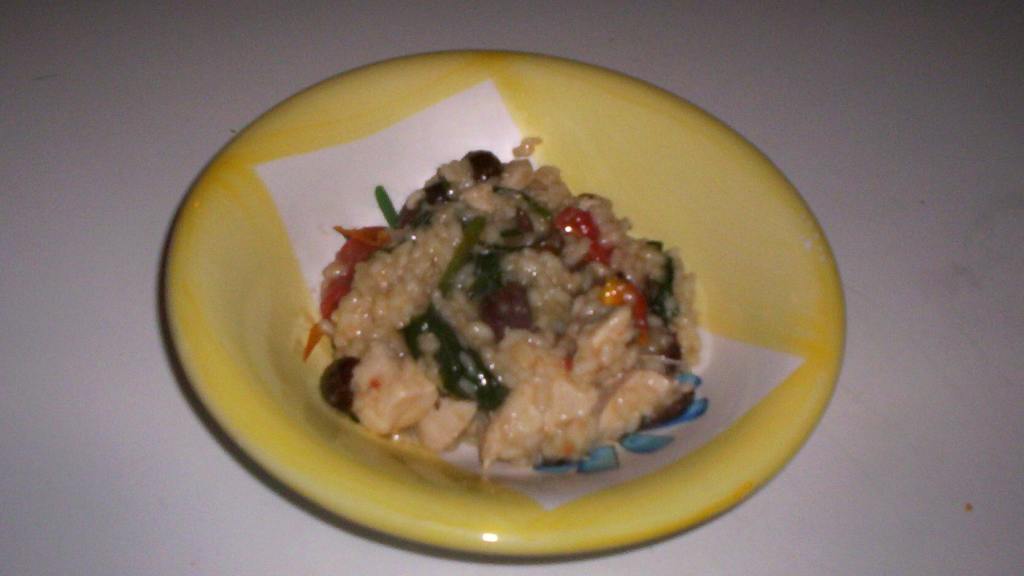 Ready In:

40mins

Ingredients:

10
directions
Keep stock simmering.
Heat oil in large pan and add chicken, cook until almost cooked through and add garlic, cook for another 1-2 minutes.
Add rice and stir until grains are coated with oil and glistening.
Add white wine and stir until it is absorbed by the rice grains.
Start adding the hot stock 2 ladles at a time, stirring between additions until the liquid has been absorbed.
After the last addition of stock add baby spinach leaves and stir until wilted.
Add semi-dried tomatoes and olives, stir until heated through.
Add 2 Tbsp Parmesan cheese and stir through.
Serve with extra Parmesan if desired.
Join The Conversation
I thought that we would love this risotto since we love each of the ingredients, but we were not as fond of it as I had hoped. I think the nice things about this dish are: easy to prepare, chicken was moist and tender, and the risotto was creamy. Unfortunately, I had been saving a hard copy of this recipe for quite some time and did not look back to see what the other reviewers had said. If I had, I would have seen that most of them suggested cutting back on the sun dried tomatoes, which I did not do. As written, I think the sun-dried tomatoes totally overpowered the dish. My suggestions for future chefs would be to read the reviews and scale back the sun dried tomatoes significantly. Also, DH suggested seasoning the chicken first.

I was a little worried that the chicken would be dry by the time the risotto was done, so I cut very short the precooking in step one, and the chicken turned out very tender. I also added 1/2 a chopped onion. I was a little worried about the amount of spinach, but it was just right. Based on other comments I scaled back the sun-dried tomatoes a bit. This turned out lovely. It is nice to have such a balanced risotto that it can stand as a one dish meal. It is odd, but the kalamatas gave it a bit of buttery flavor. I know that sounds weird, but it is true. Don't forget you can click the change button to see the measurements in US. Will make again!

Yummy! I've never made risotto before but this was so easy to follow! I would leave the olives out next time as I found them a bit overpowering, but I only had green ones so I don't know if that made a difference. The sun dried tomatoes through it finished it off nicely. I'll defenitely be making this one again.