tcourto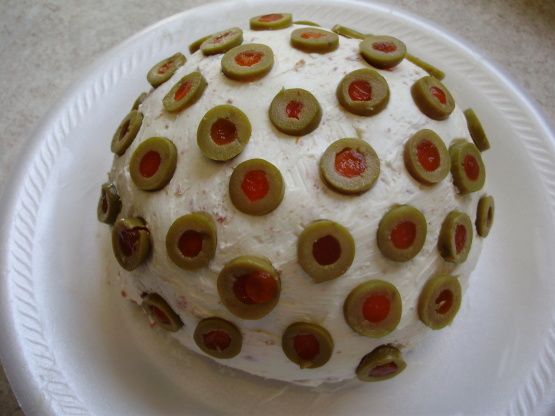 This is my mother-in-law's recipe. If you like braunschweiger, you'll love this. <><

This is good with butter crackers, ritz crackers. I would suggest adding just a dab of cream or milk to the cream cheese or purchase the whipped cream cheese for the frosting. It is easier to spread. If you like liver spreads, you will like this one. I also used miracle whip instead of mayonnaise. Thanks for posting.
Let braunschweiger and cream cheese set at room temperature until softened.
Mix braunschweiger, onion, chili sauce and 3oz of cream cheese together until well combined.
Form into a ball and refrigerate for 1 hour to firm ball.
After 1 hour, remove ball from refrigerator and carefully spread the 5oz of cream cheese over top.
Lay sliced olives over the surface.
Chill then serve with crackers.