Black Bean and Bell Pepper Soup
jan h.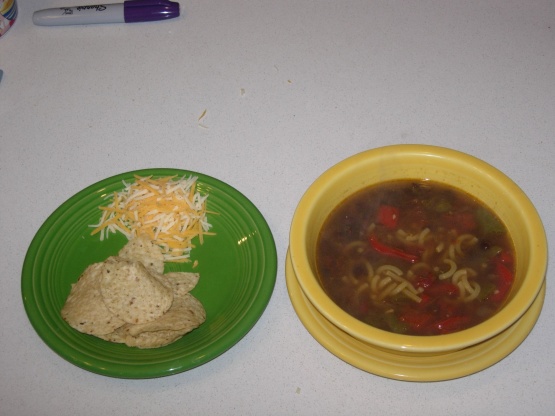 A colorful and delicious vegetarian soup

I like the soup with a little extra spice. So far have just been adding Tapatio hot sauce. But I'm thinking of dropping some jalapeno bombs and adding some extra spices perhaps. I'd prefer to go 1/2 C on the noodles. Also using whole wheat tortilla chips as a garnish makes this soup bangin'!
Saute the green and red bell peppers, onion, and garlic in olive oil over medium heat until softened, about 6-8 minutes.
In a separate sauce pot, bring salted water to a boil and cook the elbow macaroni according to the package directions. Drain, return to pot, and mix with a little olive oil to prevent sticking.
Add broth, beans, and Rotel diced tomatoes and chiles to the onion/bell pepper mixture.
Season with cumin and simmer for 10-15 minutes.
Just before serving, add cooked elbow macaroni to the soup.
Garnish individual bowls of soup with shredded cheddar cheese, crushed tortilla chips and a dollop of sour cream.