Annacia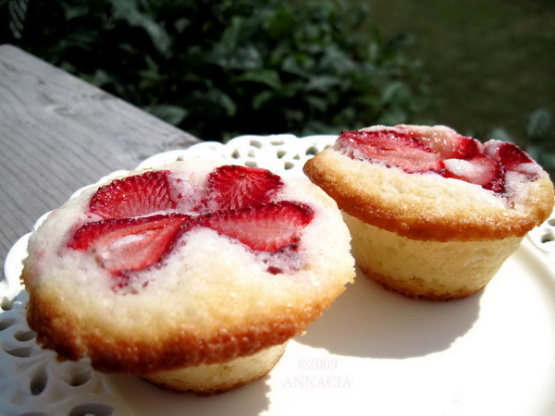 Is it a cobbler or a cupcake or a muffin? You decide! Use any fresh berry that you love. If anything sticks to the pan just scrap it off an put it back on the cobbler. When place upside down on a plate they should have a slight dimple in the bottom perfect for holding ice cream or whippend cream. Yes, the batter is thin! Adapted from a Pioneer Woman recipe .

I pretty much followed Annacia's lead when making these, though I did use blackberries since I'd found some great ones (a little expensive, though)! I probably ended up using about 3/4 cup of milk & mine were done in almost 40 minutes! A very nice dessert (& a breakfast treat, AND for a mid-day snack, all of which we had)! [Tagged, made & reviewed in Please Review My Recipe]
Preheat oven to 350 degrees, spray muffin pan with some Pam-like cooking spray (the fruit will probably stick anyway).
Combine flour with sugar, then whisk in milk. Gently whisk in melted butter and extracts.
Pour 1/4 cup batter into greased muffin tins. Sprinkle a few berries on top, don't push them into the batter, then sprinkle with a little extra sugar - about a 1/4 teaspoons.
Bake at 350 degrees for 45 minutes or until golden brown and crisp around the edges.
Put your cooling rack on top of the pan and flip over, serve warm with vanilla ice cream or whipped cream.
You have to decide how many this serves : ).