Beef 'n' Gravy on Potatoes
lets.eat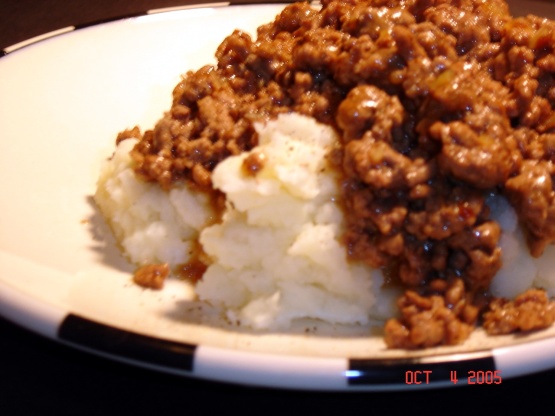 Their is nothing really special about this recipe. Just good-plain comfort food. My eldest DS had two helpings, so that tells me something! This recipe is from Quick Cooking, I'm giving you their instructions on microwaving the potatoes, but I did mine on the stovetop. I also used brown gravy WITH onions, and cooked that directly in the same skillet as the ground beef, not separtely.

My husbands Grandma used to make this recipe but she added corn... awesome if you have left over gravy or mash potatoes... very easy to make and very YUMMY!!!!
Place potatoes and water in a microwave-safe dish. Cover and microwave on high for 8-10 minutes or until tender. Meanwhile, in a large skillet, cook beef over medium heat until no longer pink; drain. Stir in garlic powder and onion powder.
Prepare gravy according to package directions. Place the potatoes in a mixing bowl; add milk, butter, salt and pepper. Beat on medium speed until smooth (or use a potato masher). Serve beef and gravy over mashed potatoes.