Apple Pancakes with Lemon Spiced Butter
Luschka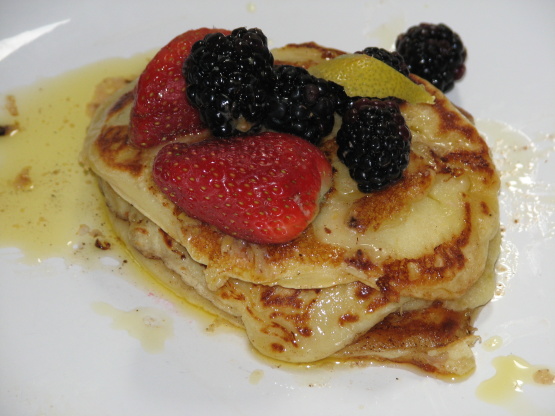 A delicious way to serve pancakes. The slices of apple in the pancakes makes the dish quite pretty. The recipe is designed to make about 10 small pancakes about 3" across. From the magazine 'Australian Good Taste'.

I found this was OK. I would suggest a few modifications. Like another reviewer I added a bit over 1 tbs brown sugar to the pancake batter which I felt it needed. There is no salt in this recipe and I think that would add a good deal more taste. When I see butter I use unsalted as I believe professionals do especially in sweet dishes. I made ours gluten free using a little over a cup of white rice flour and tapioca starch mixed (starch in half the amount) plus 1 tsp guar gum and bit over 1/2 tsp baking soda (it didn't bubble a lot so it may not have been enough, the texture was fine though) For the butter milk I used very thinned down plain yogurt as that is what I had on hand but I did reduce it somewhat. I think the apple I used was Empire. For the spiced butter I used recipe#184985 as that is what I had on hand, plus the rest of the ingredients except the optional berries (didn't have any) so I topped it with raw, local organic honey which made it nice and sweet. Maybe if it had salt it wouldn't need any sweetener so at the least I suggest useing only salted butter or adding salt to your sweet butter (unsalted). Made for THINK PINK RECIPE TAG EVENT - OCTOBER 2011.
FOR THE PANCAKES.
Sift the flour into a large bowl and make a well in the centre.
Whisk the buttermilk and egg together in a jug.
Gradually pour the buttermilk mixture into the flour whisking well to make a smooth batter.
Grease a non-stick pan with some of the butter and heat until the butter is foaming.
Gently pour 1/3 cup of batter into the pan and top batter with apple slices.
Depending on the size of your pan you can cook two or three at a time.
Cook pancakes for about 1 minute, bubbles will appear on the top and the bottom should be golden.
Turn the pancake and cook for a further minute or two until the second side is golden.
Repeat with remaining batter and apple slices, greasing pan before each batch.
FOR THE SPICED LEMON BUTTER.
Combine all the ingrediants in a small bowl and mix together well.
TO SERVE.
Arrange 2 or 3 warm pancakes in a stack, top with the flavoured butter and fresh berries.