Red Pepper Savory Jam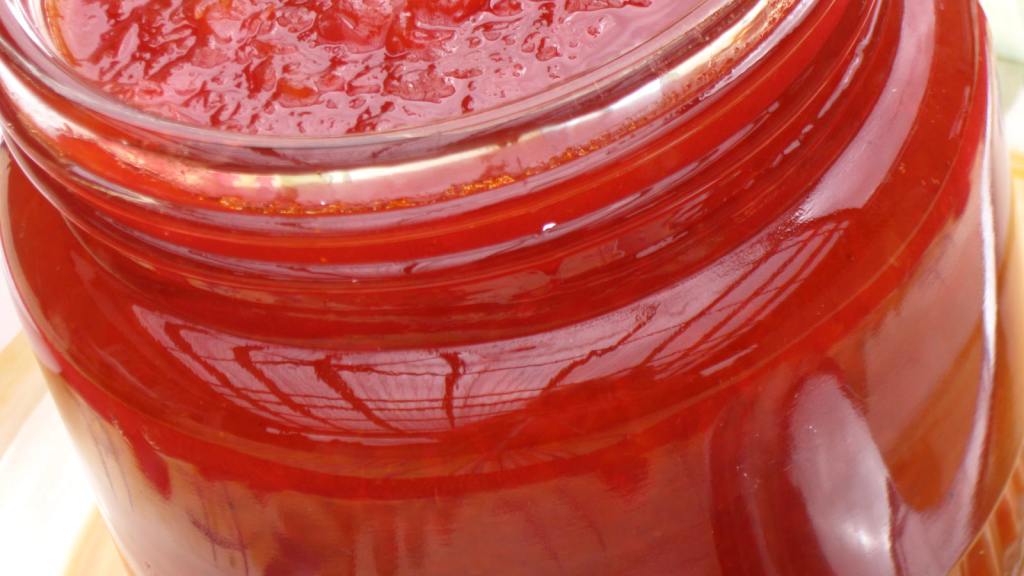 Ready In:

25hrs

Ingredients:

5

Serves:

6-8
directions
Cut peppers in half and seed them.
In the food processor, grind them coarsely.
Place in a bowl, add salt and cover with plastic wrap.
Leave overnight in a cool place.
The next day drain off half the liquid.
Combine the ground peppers, remaining liquid, vinegar, sugar and cayenne in a saucepan.
Bring to a boil and reduce it and then reduce to a simmer.
Cook for one hour, until thickened, stirring occasionally.
When thick, pour into sterilized jars and either seal or refrigerate.
Jam will keep for up to 3 months.
Makes 2 cups (500ml).
Join The Conversation
There is no way to explain how great this savory jam is until you make it. I had at times bought different pepper jelly/jams, much to my disappointment and extreme cost. Saw this and thought, hmmm I'll give it a try, certainly different, adding vinegar and no pectin. But having made my own sweet pickles using the sugar/vinegar ration I thought it might work. I have been making this for 4 mos. now, have made several batches, just love to give it away and hear the great ahh's from people. This can be used in soooooo many ways. On toast, w/ brie cheese it's superb, added into a stir fry dish, added into some leftover rotissrie chicken and mayo. The only iffy part of the recipe is cook time, because all stovetops are different. Will be a tad thin if not cooked long enough and I actually cooked some too long, very thick but great. I have cooked this late at night and then let sit until I sealed it in a waterbath the next day. No problem w/ this, plenty of vinegar. Costco sells a red pepper called "ancient sweets", very long and red.(2lb bag) This is my first choice. Beautiful red color. They also sell a 2lb bag of mini sweet mixed color. These are great but give a overall light red color and a tad different flavor. I have mixed in some green bell or banana peppers when I had them, but not too many. For those who like a hot, hot savory jam, make this recipe using only jalapenos. Nice green and will knock your socks off but the fellas love it.<br/>Here's the only changes i make to the above, I use 2 lbs of peppers, use 2 teaspoons of salt and I don't let it drain. I think this is the right amt of salt to taste and you're not draining off flavor. I mix all together and let sit for at least an hour or overnight. This process allows the salt to start to "cure" the peppers. Seal in a water bath for 10mins and this stuff will be shelf stable for a year or more. Thanks Lorrie, one of my best finds in recipes.