Nimz1466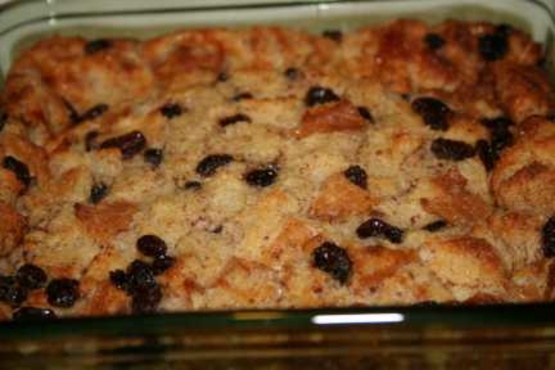 A yummy, easy to make bread pudding. A great dessert or good for Breakfast. I have been making this for some time my family loves it served with whiskey sauce (I included the recipe for the sauce).

Top Review by LAURIE
Easy and very good comfort food. I made the whiskey sauce and another lemon one. Was good with both. Great way to use leftover bread. I love bread pudding! Thanx Barb!1
Preheat oven to 350°F.
Break bread into small pieces into an 8 inch square baking pan.
Drizzle melted butter over bread.
Sprinkle with raisins, if desired.
In a medium mixing bowl, combine eggs, milk, sugar, cinnamon and vanilla.
Beat until well mixed.
Pour mixture over bread, and lightly push down with a fork until bread is covered and soaking up the egg mixture.
Bake 45 minutes, or until the top springs back when lightly tapped.
I like to serve it with a whiskey Sauce: Cook together for just a few minutes, VERY GOOD.