Sourdough Bread Pudding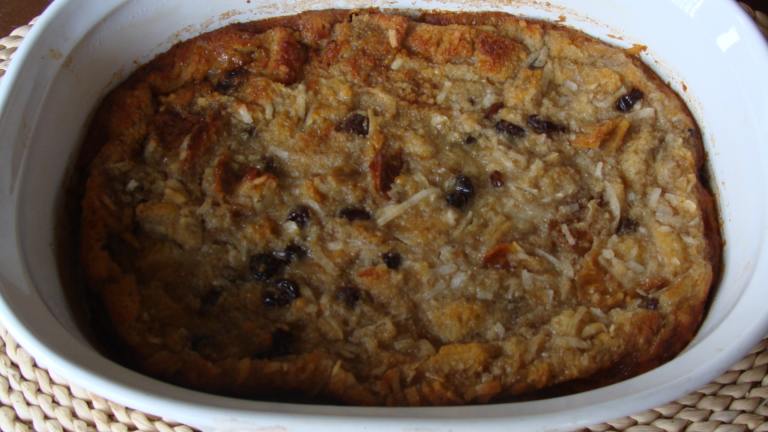 Great way to use up Sourdough Bread which is beginning to go stale and is quite yummy & a breeze to make. It's also a great dessert for the cooler months.
Ready In:

1hr

Serves:

Units:
Nutrition Information
directions
Place bread cubes in lightly greased 2-quart casserole. In large bowl beat together milk, eggs, egg yolks, sugar, almond extract, nutmeg, & cinnamon. Pour over bread cubes. Stir in remaining ingredients.
Bake in preheated 350°F oven until knife inserted near center comes out clean, about 50 to 60 minutes. Serve with whipped cream and a dash of cinnamon, if desired.
Note: For a puffier pudding, refrigerate several hours or overnight before baking.).
Submit a Recipe Correction
RECIPE MADE WITH LOVE BY
"Great way to use up Sourdough Bread which is beginning to go stale and is quite yummy & a breeze to make. It's also a great dessert for the cooler months."
Join The Conversation
I had over half a loaf of unsliced store bought sourdough bread sitting in the fridge for well over two weeks. Checked it for mold, and nothing had started - but it was way too stale, even for toast. So, I googled for a recipe, and found this. I did make a few 'adjustments'. I cubed the bread, and had a generous 6 cups - so I increased the liquids needed for the custard mix. I put the cubed bread in a large stock pot. I added at least a cup of shredded coconut (dried, sweetened - it was also in the fridge for quite a while, but still quite good), and at least a cup, perhaps more, of raisins. I tossed these together. Then, instead of separate spices, I pulled a container of ground pumpkin pie spice from the cupboard. I sprinkled at least two tablespoons of this over the bread/coconut/raisins, and tossed again. I didn't have milk, but did have half-n-half, so used 3 cups of it, plus one cup of water, and I used 6 whole eggs (not 4 eggs, plus two yolks), whisking this mix in a separate large bowl, along with one cup of sugar and two tablespoons of pure vanilla extract. When the egg/milk/sugar/vanilla mixture was thoroughly blended, I poured it into the stock pot and folded it into the bread mix. I buttered two Corning 2.8 liter 'French White' casserole dishes, and divided the pudding mix between them, using a one cup measure as a scoop, to keep the mixture 'even' between the two dishes, resulting in both dishes being filled about a third of the way. It was fairly 'soupy', but I knew that resting it in the fridge overnight would cause the custard mix to thoroughly saturate the cubed bread. In the morning, I baked both, using my convection oven at 350F (which reduces the heat to 325F, but of course it 'swirls' the hot air around the dishes). It baked for an hour, beautifully, and rose to a nearly souffle height. It was delicious warm for breakfast, while it was still 'high' from the oven; and I just also had a slice for lunch (cooling did, of course, cause it to 'fall', but it was just as tasty and kept its 'light' texture, just the same.) The resting and the added liquid hydrated the raisins and the coconut, as well as the bread. Very tasty, and made me feel less wasteful, about the bread (but will soon be making me feel more waist-ful! lol!)

After mixing, I let it sit overnight in the fridge. I make single servings, and while baking I make a caramel/bourbon sauce to go on top. I thought I would share the sauce recipe with you:<br/><br/>*WARNING* Use a deep 3 quart pot! When the time comes to add the cream it will foam up, you need the depth of the pot so you don't get burned. <br/><br/>Put 1 2/3 cups sugar in pot with just enough water to cover sugar. Place on med hi heat to dissolve sugar, then let gently boil until your sugar water turns light amber. Take pot off of the burner and slowly add 1 cup heavy cream and use a wisk to blend. Now you have a great carmel sauce. If you want the sauce thinner, add a bit more cream. Add whiskey and/or Grand Marnier to taste. I use both in the sauce and it's really good. Drizzle the sauce over your bread pudding when ready to serve. The sauce is best served warm. Enjoy!