Copycat Chipotle Barbacoa Bowl With Cilantro- Lime Rice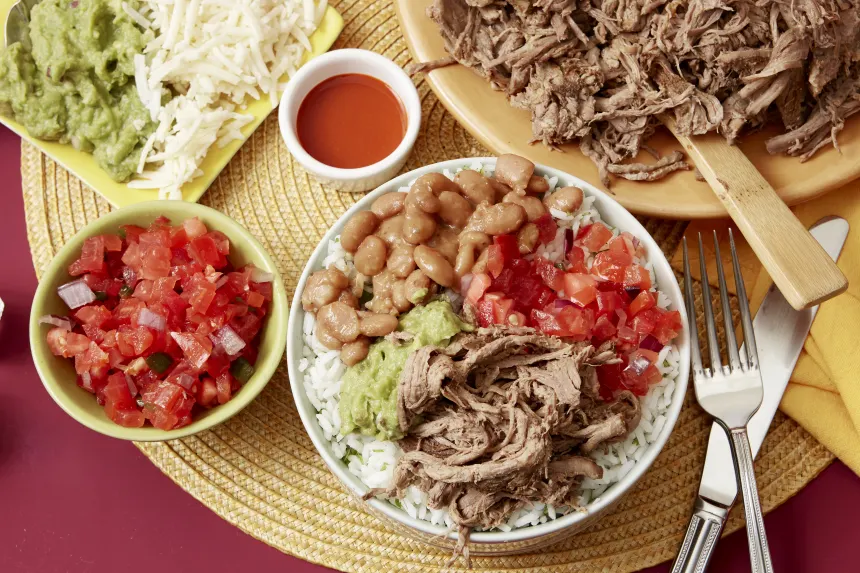 photo by EmKenBken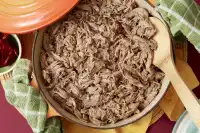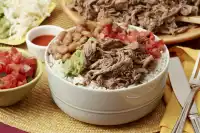 Ready In:

1hr 2mins

Ingredients:

22

Serves:

8
directions
For the marinade:

To the bowl of a food processor or blender add 1/2 cup water, onion, garlic, 4 tablespoons adobo sauce (from can of chili's in adabo), 2 chipotle chili (also from can), chile powder, 2 tablespoons oil, 1 tablespoon salt, cumin, vinegar, oregano, and black pepper.
Blend until completely smooth, add 1 1/2 cup water stirring to combine.

Marinate meat in adobo:

Place meat in a large non-reactive container, with enough room for the adobo sauce.
Pour sauce over, turning roast to coat evenly. Cover and refrigerate for 10 to 12 hours (overnight) for the most intense flavor; meat can be marinated for up to 2 days. Remove roast from marinade, pat dry with paper towels. Cut beef into 3 equal portions.

Cook Roast:

Preheat oven to 275F .
In a large Dutch oven, combine beef with adobo marinade and bay leaves. Cover and cook until beef is tender and can be pulled apart with a fork, 6 to 7 hours.
Using a large slotted spoon or tongs remove beef to a large bowl. (reserve cooking liquid, discard bay leaves and whole chilis) Allow beef to rest, covered for 30 minutes, Shred beef using two forks or tongs, discarding excess fat. Taste adobo cooking liquid. (if it is too spicy or too salty, thin it out with hot water) moisten meat with 1 cup adobo cooking liquid, reserving the rest for later use.

Make Rice:

In medium pot (about 2 to 3 quarts) combine water, rice, salt, and bay leaf. Boil, uncovered until steam holes appear in rice, and grains on surface appear dry, about 8 minutes. Cover pot and cook rice over lowest heat 15 minutes more, until moisture is mostly absorbed. Remove pot from heat and cover. Let rice stand for 5 minutes undisturbed Transfer rice to a medium bowl fluff with a fork, stir in lime juice and cilantro.

Assemble Barbacoa Bowls:

Top desired amount of cilantro-lime rice with barbacoa and desired toppings such as Copycat Chipotle Fresh Tomato Salsa, Copycat Chipotle Guacamole, Copycat Chipotle Pinto Beans and Monterey jack cheese.
Reviews
Have any thoughts about this recipe?
Share it with the community!