Yankee Pot Roast of Beef With Vegetables (In the Crock-Pot)
BecR2400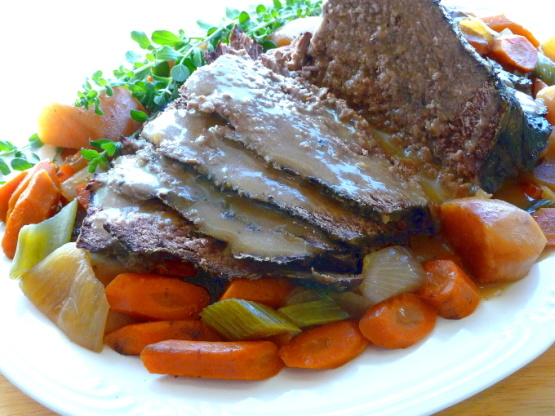 I love my crock-pot! Here is our family favorite Yankee Pot Roast recipe that we've been enjoying for years. A great autumn or winter comfort dinner. Thicken the gravy to serve over the beef and vegetables, and add a side of horseradish, if desired.

This was the best! 10 stars! I used a semi sweet red wine and followed the directions exactly. I never even thickened the gravy because we just couldn't wait to eat! The kitchen smelled so good, the meat was so tender and the veggies were awesome in the juices. Thank you Bec! This is now my new favorite pot roast recipe and I will make it often!
Place vegetables into the bottom of the crock-pot.
Season the beef generously with salt and pepper, then place in pot.
Add the liquid, bay leaf, and dried marjoram.
Cover and cook on LOW heat 10 to 12 hours (or HIGH heat 5 to 6 hours).
Remove meat and vegetables with slotted spoon and thicken drippings for gravy if desired.