Ww 7 Point Chicken Noodle Casserole
loof751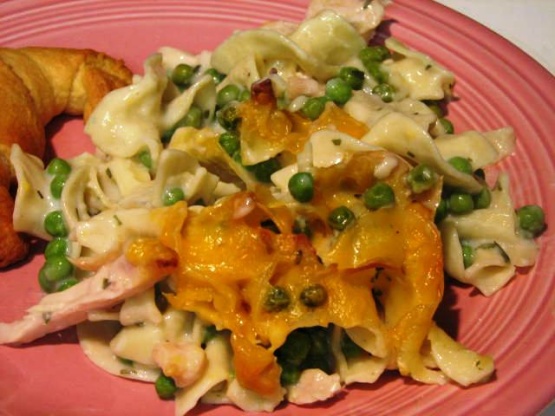 This Recipe is from Everyone Loves Chicken! I made a few changes but it is wonderful! Even my 2 year old will eat it. I took out the salt and pepper so you can season to taste, Serving size is 1 1/3 cup

This wasn't bad. I like how few noodles it used, but it seemed like a pasta dish. I think I'll try adding some carrots next time. Thanks for sharing! It's a great weeknight meal!
Preheat oven top 350 degrees. Spray a 2 quart high sided baking dish with nonstick spray.
cook the noodles per package directions drain and set aside.
meanwhile, whisk the flour and 1/2 cup of the broth in a small bowl until the flour dissolves.
Heat the oil in a large saucepan over medium heat. Add the onion and cook, stirring frequently, until softened, about 3 minute Stir in the milk and the remaining 1/2 cup broth; bring the mixture to a simmer. Whisk in the flour mixture; cook stirring constantly, until the sauce bubbles and thicknes, about 3 minute Stir in the mustard and tarragon.
Mix the peas and chicken in with sauce.
pour noodles into baking dish then top with sauce mixture. Stir the mixture together then top with cheese.
Bake Until bubbling and golden brown abour 40 minute.
Let stand for 5 min then serve.