Leslie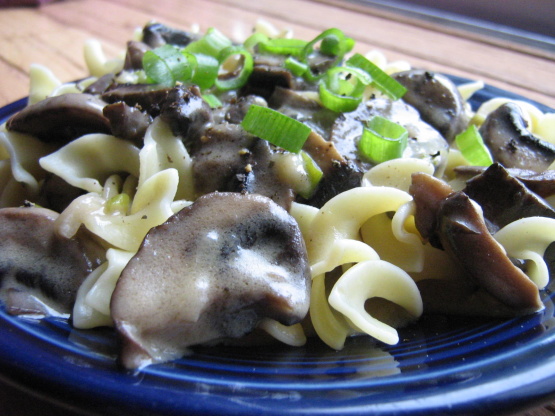 Another ZWT III recipe. A nice substitute for the beef dish whether you're a vegetarian or not. This is an adaptation from another one of those 1,000 Vegetarian Recipes. This is a very hearty and filling dish.

Super tasty! And easy to make vegan - we sub the butter for olive oil and used silk creamer for the cream! We also added lots of garlic!
Melt the first amount of butter over medium heat and add the shallot, cook until tender.
Add the mushrooms to the pot and cook until tender.
Add the broth, wine, and salt and pepper if desired. Bring to a boil and then turn down heat and simmer for about ten minutes.
While the sauce is simmering, in a separate pot melt the second amount of butter over medium heat.
Stir the flour into the butter until absorbed to make a roux.
Pour the mushroom mixture into the roux and bring to a boil, turn down the heat and stir until thickened.
Stir in the heavy cream and parmesan cheese, and parsley.
This can be served over rice or pasta -- but secretly sometimes I just eat it like a stew by itself with some crusty bread. Yum yum.
Enjoy!