ImPat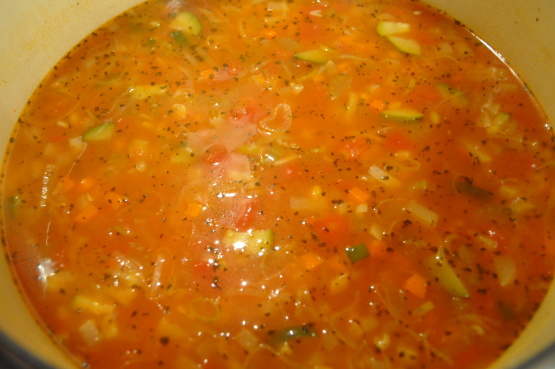 A low-fat veggie soup recipe which is nice on a winters night with some warmed crusty dinner rolls. I am not sure of US equivalent of can sizes, so I hope the 14 oz I have put where cans are needed are correct. Basically, just your average can size, not small and not fat, just normal size! Hope that makes sense!

Top Review by ImPat
This immediatly became 5 stars when the veggie hating DM ate with gusto without me having the puree the soup to get her vegies into her. I did take out a little insurance and omitted the beans and capsicum which she isn't either keen on or hates but did add zucchinni and a turnip and for the onion I used a couple of small sweet red eschallots and a young leek and I sweated off the vegies in a little oil in the pot to bring out their flavours and then added the tomatoes and the white beans (drained and rinsed) and 5 cups of hot homemade chicken stock and simmered for the hour. The DM had a huge bowl for her dinner (we had a hot and spicy meal which she doesn't like) and I am planning on taking a serving tomorrow in a thermos on our 4x4 trek day. Thank you ozzygirl for a good basic vegetable soup recipe, made for Bargain Basement game.
Chop up all the vegetables listed. I have put celery sticks as optional as my husband doesnt like them, but I do!
Add all vegetables to dutch oven or similar pan.
Add tinned tomatoes and tin of bean mix.
Mix stock with hot water and add.
Add water (I usually add the water till my dutch oven is almost full - leaving about 5 cms from the top of the pot.
Add herbs and mix well.
Cook on stove until boiling, then turn down to low and cook for about an hour stirring occasionally.