Derf2440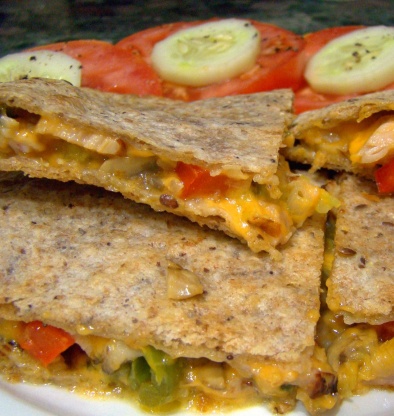 This recipe is from our local newspaper.

made for supper tonight, quite delicious!! I did do some changes, added some chopped mushrooms and used both green and red sweet pepper. I liked the idea of sauteeing the filling first and did so, but I prefer cooking them in the oven, so I veggie sprayed the tortillas and placed them on a tray, filled them , topped them with the cheese and the top tortilla and popped them in the oven for about 15 minutes at 350F, came out beautiful and delicious. thanks soo much for the basic recipe, and the idea to sautee the filling first, loved them and will make them again.
In a large non stick skillet, heat oil over medium high heat and add turkey and cook, stirring until no longer pink.
Stir in green pepper, onion and chili powder.
Cook until onion begins to soften. Season with hot pepper sauce to taste, salt and pepper.
Remove turkey mixture to a bowl.
Wipe out skillet with paper towel.
Brush one side of each tortilla with oil and place oiled side down in skillet.
Spoon 1/4 of turkey mixture over tortilla and sprinkle with 3/4 cup of cheese.
Place another tortilla over top, oiled side up.
Cook both sides until lightly browned and cheese is melted.
Repeat with remaining tortillas.
Cut each into six wedges.
Serve with salsa and sour cream.
NOTE: I often use left over turkey or chicken. I also just spritz the tortilla with oil.