The Best Hash Brown Casserole
MaMoms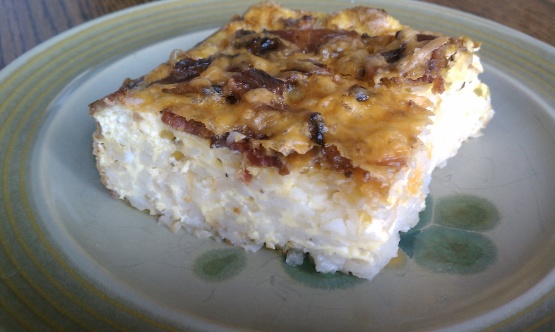 This is a staple in my house. Its super easy to put together and is a crowd pleaser every time! This dish is great for large gatherings, holidays, and everyday weeknight meals. I usually use a can of cream of mushroom and chicken soup but occasionally I can't find any. Cream of mushroom by itself works just fine.

Top Review by MaMoms
I made half the recipe and didn't add the bacon bits, planning to serve eggs and bacon on the side. When it came out of the oven (smelling fabulous) my husband asked me to add the bacon and eggs to it. So I chopped up 8 pieces of bacon, sprinkled on top, then dumped 9 scrambled eggs (w/ about 1/4 c. milk) on top and coated with cheese. I stuck it back in the oven for about 15 more minutes and finished it off with a broiler to brown (didn't want to dry it out since the original version was fully cooked). It got rave reviews!
1. Mix all ingredients together in large bowl.
2. Place in greased 9x13 glass dish.
3. Bake at 350 for an hour or until center is bubbly and top is slightly brown.