Tamarind Chicken With Bean Sprouts & Mushrooms
rpgaymer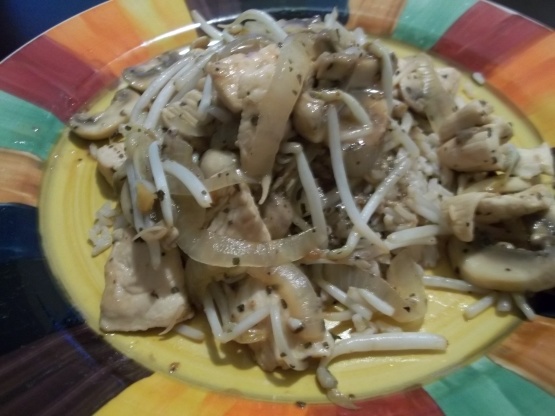 Another Thai-inspired dish. This stir-fry has a mellow, slightly sour flavor from the Tamarind concentrate.

I chose this recipe because I had all the ingredients on hand. I followed it exactly and it was awful! The tamarind was way too strong and there were seeds in the tamarind paste that almost broke my husband's tooth. I keep tamarind around for Thai food and use it in small quantities. I should have realized that it was way too much.
In a small bowl, combine first four ingredients. Set aside.
Heat oil in a wok over high heat. Add the chicken and stir-fry for 5 minutes.
Add the mushrooms, onion, and garlic; stir-fry for an additional 2-3 minutes.
Add the sauce, and stir until it just begins to simmer. Remove from heat, then stir in bean sprouts and habanero pepper.
Serve over brown rice.