We grill a lot-this is our best venison or beef marinade. Prep time includes 8 hours of marinating.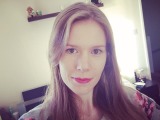 These are so amazing! The marinade is absolutely delicious!! We had some leftover from marinading the meat, so reduced it down and used it as sauce. Yummy!! Loved the mix of sweet and savoury on each kabob too, will definitely be making these again!
Combine all marinade ingredients and pour over steak cubes.
Marinate in the refrigerator at least 8 hours.
On skewers, alternate steak with vegetables and pineapple.
Grill on high for 10-15 minutes, basting frequently with reserved marinade.