cpss6837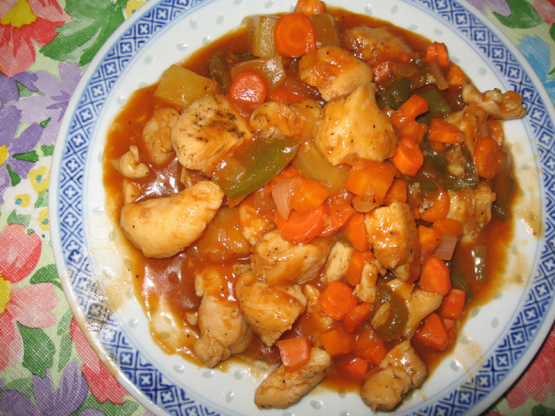 My sister's favorite dish... she's a sucker for savory Asian food.

We liked this would probably use less ginger nex time
Drain pineapple, reserve the juice.
Cut chicken into bite size pieces and season with salt and pepper.
In a large skillet, brown chicken in oil.
reduce heat and add vegetables, cover and simmer for 5 minutes.
Combine reserved pineapple juice, ketchup, brown sugar, cornstarch, soy sauce, ginger and garlic in a small bowl until blended.
Stir into the skillet.
Cover and simmer until vegetables are tender and sauce is thickened, about 10 minutes.
Stir in pineapple and heat through.
Serve with rice.