loof751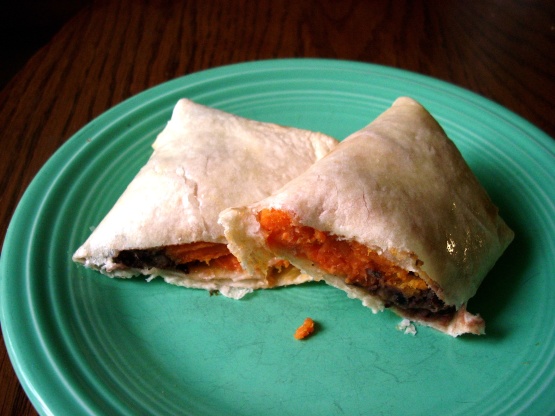 Serve these vegetarian burrito's with sour cream, chopped green onions and salsa. For vegan burritos, omit the cheese and sour cream

I'm a vegetarian so I knew I would love these burritos. My family however, is not. Wasn't sure how they would react to these, but they loved them! I think the sweetness of the potatoes mixed with the smoky heat of the cumin and chili powder went together really well. I had to omit the cayenne, and use my milder chili powder to suit the crowd I was cooking this for. When I make these just for me, I will add the full heat back, amybe even a little more! Overall, I think this was a great vegetarian alternative to one of my favorite Mexican foods.
Preheat oven to 350 degrees F (175 degrees C).
Heat oil in a medium skillet, and saute onion and garlic in until soft.
Stir in beans, and mash.
Gradually stir in water, and heat until warm.
Remove from heat, and stir in the chili powder, cumin, mustard, cayenne pepper and soy sauce.
Divide bean mixture and mashed sweet potatoes evenly between the warm flour tortillas.
Top with cheese.
Fold up tortillas burrito style.
Bake for 12 minutes in the preheated oven, and serve.