Sweet and Sour Stir-Fried Shrimp
teresas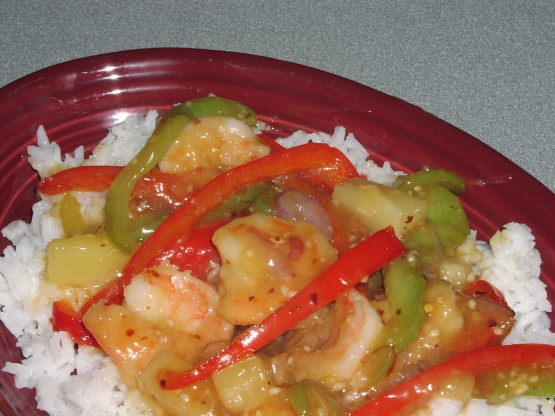 Another one from Diabetes Forecast. Serving size 1 cup; Carbohydrate Exchanges 2; Very Lean Meat Exchanges 2; Fat Exchanges 0.5

We enjoyed this, though we found it to be a very mild sweet and sour sauce. I used apple cider vinegar and splenda, all green peppers, and yellow onions. My shrimp was pre-cooked so it ended up a little chewy but that was operator error. I liked the sauce on lots of veggies over brown rice for a very easy weeknight meal.
Combine the sauce ingredients and set aside.
Coat the shrimp very lightly with flour and shake off excess.
Heat 2 teaspoons of the oil in a large wok, set over medium-high heat. Saute the shrimp in batches until golden brown on both sides, about 3 minutes.
Remove the shrimp from the wok. Add the remaining oil and the peppers and onions and stir-fry for about 5 minutes. Add the pineapple chunks and sauce. Cook until the sauce thickens, about 1 minute.
Add the shrimp, warm and serve.