Tropical Passion Sweet & Sour Shrimp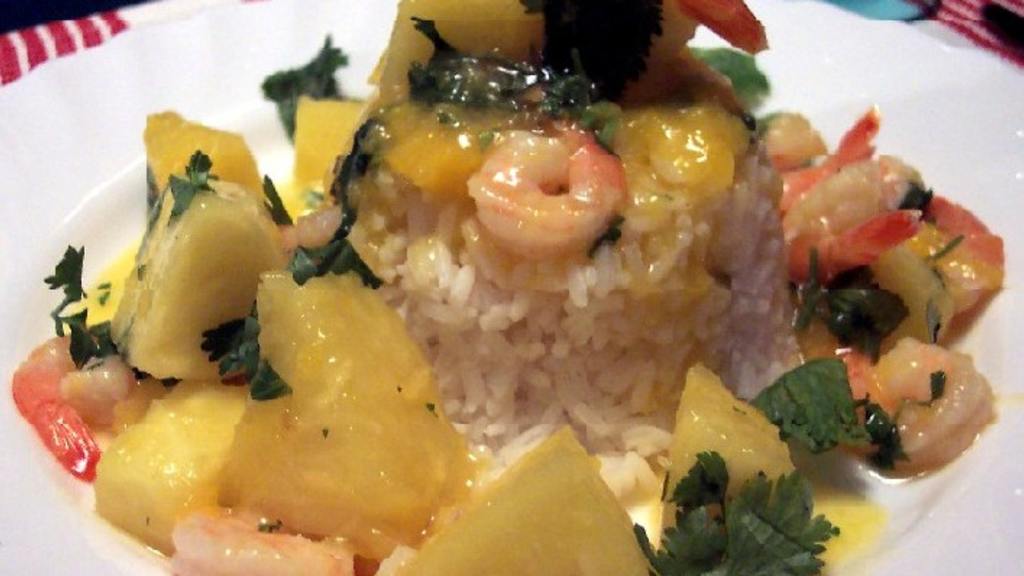 Ready In:

38mins

Ingredients:

13
ingredients
2

teaspoons canola oil, approximately

3

cups medium large frozen shrimp, peeled & deveined,thawed (enough for 4 servings)

2

cups fresh pineapple, peeled,and cut into large chunks (do not use canned!)

1

whole fresh papaya, peeled,halved and seeded,cut into large chunks

1

whole fresh mango, peeled,pit removed,and cut into chunks
1 1⁄3

cups orange juice, freshly squeezed (or you may use bottled, not from concentrate orange juice)

1⁄2 lime, juice of (approximately 2-3 tsp)
1⁄4 cup granulated sugar
3⁄4 teaspoon salt, to taste (I used the full measured amount)
1⁄4 cup white wine vinegar

4

teaspoons cornstarch

4

tablespoons fresh flat leaf parsley or 4 tablespoons cilantro, chopped,as garnish

4 -6

cups cooked white jasmine rice, freshly cooked
directions
PREPARATION: Make sure your rice is already cooking (or cooked and set to warm in an electric rice cooker).
Prep all of your fruits, juices, and seasonings before you begin and have them handy near the stove as this will cook quickly.
Whisk together the vinegar with the cornstarch until smooth and set near stove- leave whisk nearby so you can quickly rewhisk if it settles before adding.
Also, make sure your shrimp is peeled,& deveined and ready to go by the stove (If using raw or precooked frozen shrimp,thaw by running under cold water in a mesh strainer,tossing them with your clean hands to keep them from sticking together, until thawed- drain well and set in a bowl near the stove.) COOKING: Heat oil in a large skillet on medium high heat- you only need enough oil to keep your ingredients from sticking.
Add shrimp and stir fry until shrimp turns pink and is opaque- no more than 5 minutes from raw, or just 1 minute for precooked shrimp.
Remove from pan using a slotted spoon and set aside.
Add orange juice, lime juice, sugar,pineapple, papaya, and mango to the pan and stir to coat.
Quickly rewhisk the cornstarch mixture and add to the pan- stirring constantly.
Bring to a boil and cook for about 1 minute, until sauce thickens slightly, stirring constantly.
Return shrimp to the pan and cook 1 minute or until heated through, stirring constantly.
Immediately remove from the heat.
Serve over hot cooked rice and garnish if desired with a sprinkling of fresh herbs.
TIP: To make pretty rice mounds, press the hot rice into a 1 cup measuring scoop or a small custard cup- place plate on top and flip over- when you remove the mold, a nice rounded dome of rice will be on the plate.
Join The Conversation
This is sinfully delicious. I did use fresh fruit and cut a little smaller then your pic shows. I made recipe exactly as shown and also sprinkled a little coconut on top. I used 2 pounds of shrimp and it worked fine with the rest of the ingredients. Everyone loved it and asked for the recipe. Definately something I will make many times. Thanks for posting HeatherFeather.

This is perfect for a dinner party or for a romantic meal. I saw Bob Bowersox demonstrate his unique version of Sweet & Sour Shrimp on QVC and thought it looked so delicious. I copied down the recipe, altered it to suit my tastes, and here is my version. Please - only use fresh cut fruit in this - not canned or it will not taste the same. This is nothing like Chinese style sweet and sour shrimp, but rather Hawaiian inspired. It has a fresh fruity taste, with a sour tang from the vinegar. I have only made this with shrimp so far, but I see no reason why you could not subsitute chunks of chicken or pork in this, and just stir fry it first until cooked through.