Peter J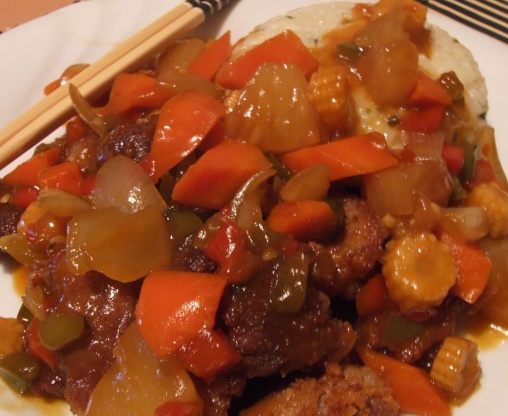 the secret to crispy pork is double frying! pork is fried until cooked, then drained. Just before the meal is served, drop the pork back in the (re-heated)oil for about 30 seconds, and serve.

Cut this in half for 2 of us & this recipe was surprisingly EASY TO PUT TOGETHER, & TASTY, TOO! The sweet & sour was great, & the crispy pork, very enjoyable! I'm usually big on pork roasts, so this was a very nice change of pace! Thanks for sharing! [Tagged, made & reviewed as a PRESSIE in the Aus/NZ 12 Days of Christmas Recipe Swap]
chop the pork into bite sized bits, and marinate in the sherry and soy while making the sauce.
cut all vegetables into 1" squares, (bite size).
heat oil and saute all vegetables, about 3 to 4 minutes.
add pineapple.
combine all other ingredients, and add to the pan, stirring till it thickens.
keep warm.
Pork.
add the plain and cornflour to the pork and toss to coat, shake off any excess and deep fry the pork in medium hot oil until done.
Drain the pork and re-heat the oil.
cook pork for about 30 seconds, until crisp.
serve on rice with the sauce poured over.