Hanka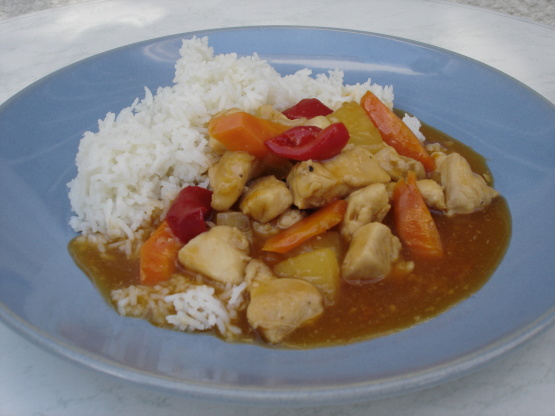 We like this as a quick meal when we've been gone all day. Add more or less garlic to suit your taste.

This is a wonderful recipe! I cooked as directed except I sauteed my pork in the vinegar instead the oil. I have another recipe similar to this and that is how I cook the pork... I know it probably sounds strange but try it least once...the pork is so tendar...any cut will be..pork chops, roast etc. Whatever I have on hand. I also add a few shakes of "fish sauce" it is on the ailse with the soy sauce it adds great flavor. My sister in law was from Thialand and this is how she taught me to fix sweet and sour pork. So good with rice. Hubby and kids always request crispy toasted garlic bread to "soak up extra juice" This is very quick to make and I usually have the ingredients on hands. The kids love it! I took it to potluck and can home with "the bowl licked clean"! Thanks for posting, my son had asked me to write down my recipe for his wife and I was going to have to write it out as I cooked. Thanks again....ENJOY
In a small bowl, combine cornstarch and water until smooth; set aside. In a large skillet or wok, cook pork in oil until browned. Add the pineapple, corn syrup, vinegar, ketchup, soy sauce and garlic. Bring to a boil. Reduce heat; simmer, uncovered, for 10 minutes.
Add the green pepper; cook for 2 minutes. Stir the cornstarch mixture and stir into pork mixture. Bring to a boil; cook and stir for 2 minutes or until thickened and green pepper is crisp-tender. Serve over rice if desired.