Swedish Cream of Mushroom Soup (Champinjonpure)
Brenda.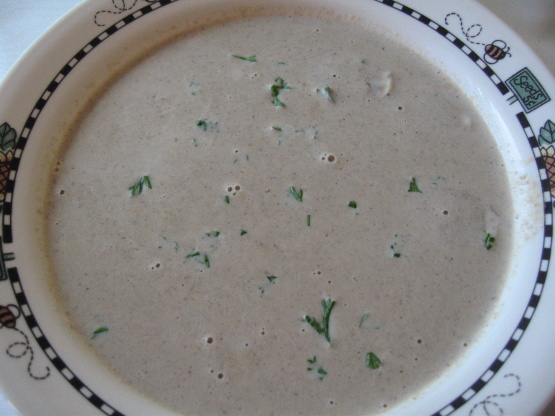 This is rich and creamy, and easy to make, too! Hope you enjoy! :)

Wow, this is terrific and so easy to make! I used a stick blender to mix everything up right in the cooking pot. Great mushroom flavor. We loved it! Made for ZWT3.
Wipe mushrooms clean with damp paper towel, or rinse under cold water. (Drain).
Put butter into saucepan, and add onion and mushrooms, cover, and simmer 5 minutes over med-low heat. You just want to simmer them, not brown them, so stir once or twice and lower heat if necessary.
Remove mushrooms and place into blender or food processor.
Add flour, seasonings and 1/2 cup consomme.
Puree. You will need to scrape down a couple of times.
Pour puree back into pan.
Add remaining liquids and simmer over low heat stirring til smooth.
Serve with warm crusty bread for dipping.
Can garnish with chopped fresh parsley if desired.