Surf and Turf With Dill Sauce and Onionberry Chutney
2Bleu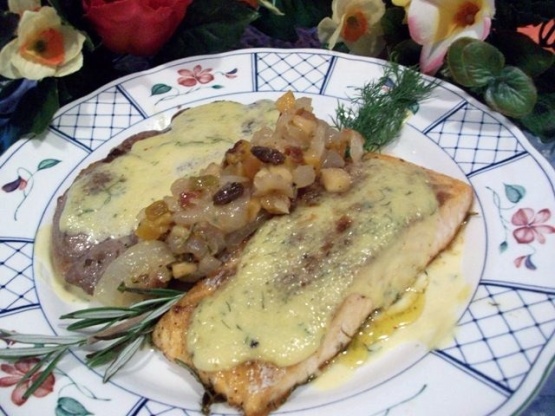 This is a simpler-than-you-might-think recipe with a touch of elegance that might be found at fine dining establishments. Choose your starch and vegetable and place them into individual servings using ramekins to finish off this classy main course. Created for RSC #14. Bon Apetit!

I really loved several things about this recipe. The use of ingredients is creative, unexpected, and just delicious. It's not the kind of dish you'd make often, but it's surprisingly easy for a special occasion dinner. The chutney and the dill sauce are out of this world good, and I thought the lamb and salmon made a nice contrast to each other in flavor as well as color and texture. I made mine with baby potatoes, which are also great with the dill sauce, and peas, which are also great with the chutney! Thanks for a couple of versatile recipes I know I'll use again and again.
Dill sauce

1⁄3 cup mayonnaise

2

tablespoons Dijon mustard

2

tablespoons stone ground mustard (Guldens)

2

tablespoons sugar
1⁄2 teaspoon olive oil

1

teaspoon fresh dill weed
1⁄4 tablespoon garlic powder
1⁄8 teaspoon onion powder

onionberry chutney

1

tablespoon olive oil

1

tablespoon butter

1

large vidalia onion, sliced
kosher salt, to taste
black pepper, to taste
1⁄4 cup dried cranberries

2

tablespoons sliced almonds, chopped fine
1⁄4 cup white wine

1

tablespoon red wine vinegar

2

teaspoons fresh rosemary, chopped fine

surf and turf

1

tablespoon olive oil
1⁄2 tablespoon butter

2

tablespoons fresh rosemary, chopped fine

2

tablespoons fresh dill, chopped fine

2

(3 -4 ounce) salmon fillets, skin removed (or scored)

2

lamb chops, bone-in center cut
kosher salt, to taste
black pepper, to taste
DILL SAUCE: Mix all ingredients well, set aside until needed. Let sit for at least 30 minutes though. (You will use this twice in the recipe, and most likely have some leftover).
ONIONBERRY CHUTNEY: In a pan heat oil and butter over medium heat. Add onions and cook 15-20 minutes, turning occasionally, until they caramelize and turn golden in color.
Add remaining chutney ingredients to the pan and increase heat to med-high and cook until thickened, about 5 minutes.
SURF & TURF: Heat broiler and place rack 8-10 inches from heat source. Season chops and salmon with salt and pepper and set aside. To a large broil-proof skillet, add olive oil and butter. Place on stovetop over med-high heat. Once oil is ready, sprikle the finely chopped rosemary and dill into the pan. Place chops and salmon in skillet directly on top of herbs. Do not move or turn the meats over! Sear for 2-3 minutes.
Once bottom is seared nicely, immidiately move the skillet under the broiler and broil for 2-3 minutes. Lightly spoon some of the dill sauce over tops and return to broiler and broil 1-2 minutes more, being careful not to burn the sauce. Let sit a minute or two before serving.
ASSEMBLY: Smear or drizzle a bit of the remaining dill sauce decoratively onto 2 serving plates. Place a mound of chutney in the center, then lean just a tip of the lambchop and salmon (1 of each) over the mounds, and across from eachother (like a pyramid).
Use ramekins for your starch and vegetable portions and place across from eachother from the mound (circular around the chutney it would be: salmon, rice, pasta, or potato, lamb chop, vegetable). Garnish with fresh sprigs of rosemary and/or dill if desired.