PaulaG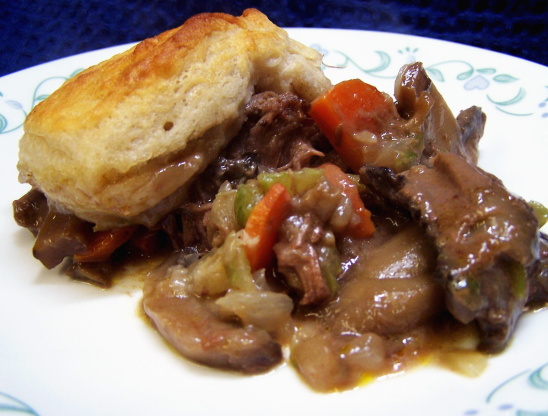 Easy, quick and very yummy. Give this a try! It works very well with venison and game meat. Prep time doesn't include marinating time, if used. Update: the amount of oil in this recipe has been changed, sorry for the origional typo! I do recommend marinating the beef in red wine.

Goodness, this is delicious! my whole family loved it, the steak was so tender and moist and the flavors blend so well!! Thank you for sharing this recipe !
I like to marinate venison in some red wine for a couple hours, but this is not neccessary.
Cut steak or roast in chunks and brown in oil and 1 Tblsp butter.
Reduce heat and saute mushrooms in the same pan until tender.
Transfer meat and mushrooms to pie dish, leaving juices.
To the drippings in skillet, add remaining 1 tablespoon butter, stir in flour and cook 2 minutes to form a roux.
Stir in just a bit of broth or water until a smooth gravy is formed.
Stir in sherry.
Pour over meat and mushrooms in pie dish and begin baking @ 400 for 30 minutes.
Lay rolled up crescent rolls or biscuits on top and bake 15 minutes more or until browned.