This recipe comes from my mother - originally called Emäsalo chicken salad, but I'll spare you for pronouncing that! - and was published in their sailing club's cookbook. She makes it for the boat, but it's a perfect make-ahead picnic food for land too!
Directions
Remove all the meat from BBQ chicken and discard bones and skin. Cut into cubes.
Cut all vegetables to cubes too.
Mix the vegetables and the chicken together in a large bowl.
In another bowl, prepare the sauce by mixing all the incredients together. The sauce is supposed to have a strong taste, and make sure to taste it so that it's to your liking.
Mix the sauce and the salad together, and place in a sealed container. Stores for hours in a cool place.
Reviews
Most Helpful
I expected it to be more spicy. I would add a little bit of crushed red pepper or more chili sauce to this recipe to give it the kick I expected. The chicken salad was very good none the less and it turned out beautifully.

I tried this one and yes it was GREAT.Definitely Needs to be a little more spicy though.This is one chicken salad i will eat, most of them have celery in it not a big fan of celery.In honesty that might have been the best point to it.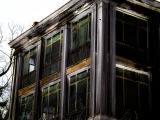 Great Chicken Salad! I loved the flavor.... I was expecting "spicy" as in "hot" but the spicy I now see is the sauce mixture's spices. Wonderful tasting Salad!I usually load mine down with onions and pepper....and this didn't need either. Great Recipe!