Spicy and Tender Crock Pot Pork Chops
These are the most tender chops I have ever had! I usually cook some apples to go on top of the chops and use the sauce in this recipe to put over rice. I found this recipe in one of my favorite Cookbooks 'Fix It and Forget It.' Hope you enjoy!
Directions
Brown chops in oil in skillet.
Transfer to slow cooker.
Discard oil.
Combine then add remaining ingredients to cooker.
Cover.
Cook on Low 8-10 hours.
Serve over rice.
Most Helpful
This does, as Mellisa says, produce tebder chops. I made 5 chops. I liked the sound of the apples but instead of cooking them separately I peeled, cored and quartered 2 medioum apples and put them in with the chops-excellent. I mixed all the sauce ingredients before pouring over the chops. I was a bit short on the green pepper so I decided to add a bit more heat and added a small tin (apprx 2 oz) of sliced jalapeno peppers. Loved the end result.Served with mashed potatoes, steamed broccoli steamed carrots I froze the remaining 4 chops with some sauce and after freezing them individually I vaccum sealed them in bags, again individually. Thanks Mellisa for a great recipe that I will be enjoying several times over

I had 5 center-cut pork chops and made this exactly as posted. These are more sweet than spicy, with a barbecue sauce flavor. Next time, I might add some tabasco or cayenne to actually make it spicy! Thanks for sharing.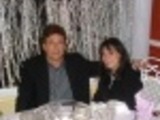 I had to fend off the family and guard the crockpot to keep them from opening it up and trying to sneak a taste. The pork chops were tender and the juices from the pot were terrific poured over steamed rice. This is a definite keeper.