Spanish Rice With Chicken
Satyne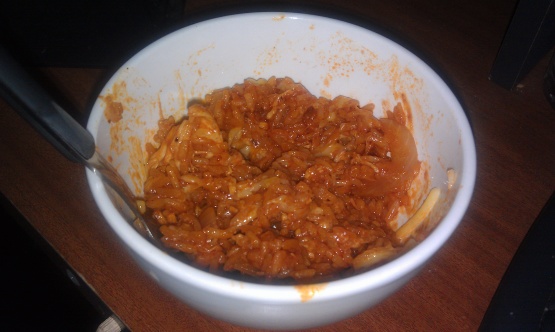 This recipe is an old time family favorite. It's good to make when you have many mouths to feed but very little food supply! You can use what ever kind of chicken you got on hand. I prefer chicken breast, they cook faster, and it's easier.

Top Review by Satyne
This was YUMMY!!! It was super easy to make and it tastes a lot like the rice I get from Mexican resteraunts. I used some BBQ chicken and just shredded it into the pan and tomato paste instead of sauce. Topped it off with some grated Tasty Cheese. Thanks for sharing.
At high heat add canola oil to a large pot.
Add white rice, onion, and garlic; brown.
Bring to a medium heat.
Carefully add tomato sauce and stir quickly until the sauce thickens.
Pour in the 6 cups of water and stir.
Add cumin and salt to taste.
Add chicken and bring to a boil.
Place a lid on pot an bring heat to a low heat.
Simmer until rice is tender and chicken is cooked thoroughly.
Serve with flour tortillas.