Sour Cream Chicken Risotto
diner524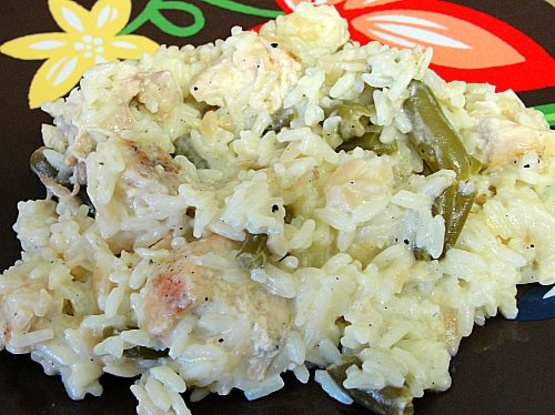 True risotto is made from arborio rice, slowly cooked with homemade chicken stock until creamy. This shortcut recipe tastes wonderful too, and is much, much easier.

I love true risotto but sometimes you don't have the time or patience for long cooking and stirring! I made half the recipe using the "San Francisco Treat" - 6 oz package of Creamy four Cheese flavor, 4 oz chicken breast half (cooked last night) 1 c frozen baby peas, 1/2 c Recipe #39350 and skipped the extra Parm to save on sodium (the rice contained parm, cheddar, romano and bleu). This made an easy and great tasting rice dish for lunch and count on me making this again! Thanks for posting Annacia! Made for When It's Hot Tag Game.
Prepare the mix according to package instructions, adding 1/2 cup more water. Five minutes before the rice is done, stir in the chicken and peas.
Cook until rice and pasta are tender, stirring frequently.
Remove from heat and stir in sour cream and cheese.
Cover and let stand 5 minutes before serving.