Sicilian Lemon Chicken With Raisin-Tomato Sauce
MA HIKER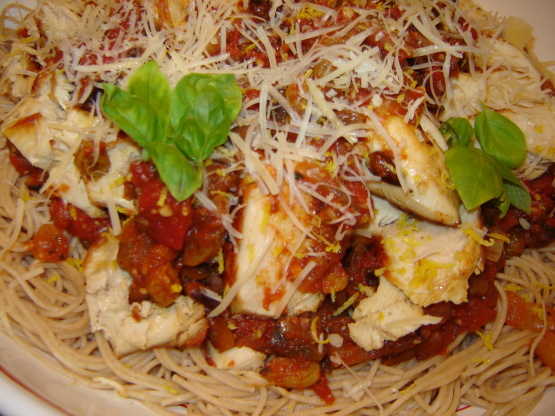 Seared lemon chicken breasts are complimented with a sweet and tangy sauce and served over angel hair pasta. A garnish of lemon zest, shaved Parmesan cheese, and a basil sprig lends this dish a professional look.

This was wonderful! I don't know how "professional" it looked - I ended up serving it in a large pasta bowl - layering pasta, most the sauce, the sliced chicken and then a little sauce with the lemon zest, parm & basil. I wanted the chicken to be visible. I also used two cans of tomatoes - the one can did not sppear to be enough (well plus my onion was really more on the large size). The lemon zest and raisins made the sauce interesting & delicious. Even my picky 18 yr old son really loved it (didn't tell him about the black olives). I will definitely make this again. It would be lovely made with fresh tomatoes this summer. Thanks for the post!
Soak the raisins in warm water until they plump, about 10 minutes.
Drain and set aside.
Heat 3 tablespoons of olive oil in a saucepan over medium-high heat.
Stir in the onion, garlic, pine nuts, and olives.
Season with bay leaves, oregano, and cayenne.
Cook until the onions have softened and begun to turn golden, about 5 minutes.
Stir in the tomatoes and season with salt and pepper; cook for 5 more minutes.
Add the raisins, balsamic vinegar, and sugar; cook, stirring occasionally until thickened, about 5 more minutes.
Remove the bay leaves, and stir in the julienned basil. Cover and keep warm.
Bring a large pot of lightly salted water to a boil.
Add pasta and cook for 8 to 10 minutes or until al dente; drain.
While the pasta is cooking, heat the remaining 1 tablespoon of olive oil in a skillet over medium heat.
While the skillet is heating, toss the chicken with the lemon juice to coat (the lemon zest will be used later).
Cook the chicken on both sides until golden brown and the juices run clear, about 15 minutes.
Transfer to a warm plate, and allow to rest for about five minutes.
To serve, slice each chicken breast against the grain into thin slices.
Divide the pasta into four wide, shallow bowls.
Fan the chicken slices out over top of the pasta, and spoon the tomato sauce over them.
Sprinkle with lemon zest, Parmesan cheese, and a sprig of basil to garnish.