Shrimp With Snow Peas and Water Chestnuts
MsSally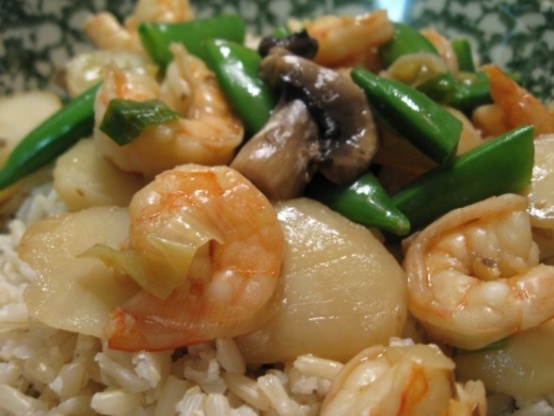 from ivillage.com Does not include marinating time

Pretty good. I added 1 teaspoon of garlic like other posters suggested.
I cooked it exactly- shrimp was cooked but not rubbery!
Peel and devein shrimp. Combine the sherry and soy sauce in a medium bowl and add shrimp. Marinate in the refrigerator for 30 minutes.
Meanwhile, heat a wok or large skillet over high heat and add the oil. Add ginger and stir-fry for 1 minute. Add the shrimp (reserving the marinade) and cook until light pink, 2 to 3 minutes.
Add mushrooms and snow peas and cook for 1 to 2 minutes, until the snow peas are bright green and crisp-tender. Add scallions and water chestnuts and stir-fry until just heated through.
Add the reserved marinade and cornstarch mixture. Bring to a boil and cook until the sauce thickens. Serve.