Tread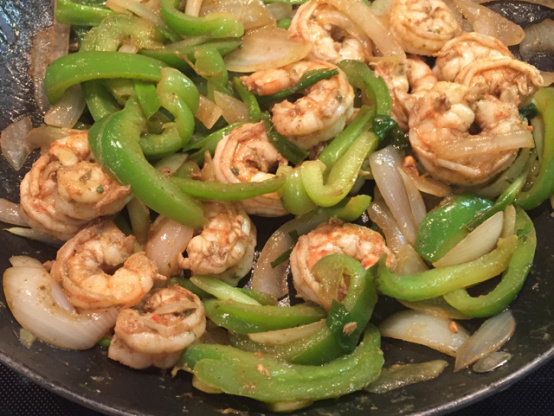 Sizzling shrimp fajitas are a favorite of my family's. I prefer flour tortillas, husband likes corn. Use whatever suits you.

This has become a total family favorite- we make it for special occasions now. We omit the green onions and red onion. We use your regular old fashioned white onion, about half of one. I typically use way more than 2 bell peppers- at least 5 or 6- so that the meal stretches out for a few more servings. Also, I don't just use green bells, I prefer to use yellow, orange, and red so that the dish has a lot of color to it. We also typically add in a couple sliced roma tomatoes.
Add shrimp, salt, cumin, chile powder, oregano, garlic, lime juice to a large bowl or heavy duty zip-top plastic bag.
Toss until spices are distributed and shrimp is well coated.
Let marinate for 10 minutes.
Heat oil in a large skillet (cast-iron is best).
Add the green onions and peppers; cook and stir occasionally 2 minutes or until slightly softened.
Add the shrimp and marinade; cook and stir constantly about 3 minutes or until the shrimp are pink.
Spoon shrimp and vegetables into warmed tortillas; garnish with sour cream, cilantro and onion if desired.
Fold up and eat.