MsSally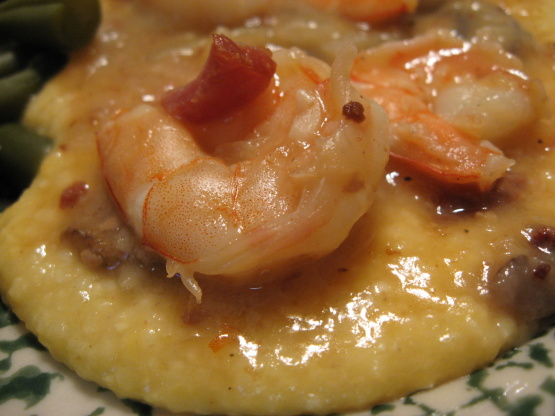 This recipe come from The Crook's Corner Restaurant in Chapel Hill, NC and The Southern Living Magazine, February 2008 edition.

Out of respect for your submission made this recipe as stated. This was the 2nd best grits recipe I have experienced! If you ever obtain Hyman's Grit Cake with garlic alfredo sauce.....be sure to post (Charleston SC). This was a treat! Used quick grits and they turned out just right. Thanks for posting....come on folks just try the recipe as it is written....you won't be sorry.
For Shrimp:.
Over medium heat cook bacon in a large nonstick skillet for 10 minutes or until crisp; remove bacon, crumble, and drain on paper towels, reserving 1 tsp drippings in skillet.
Peel shrimp and devein, if desired.
Sprinkle shrimp with salt and pepper; then dredge in flour.
Sauté mushrooms in hot bacon drippings with oil in skillet 5 minutes or until tender.
Add green onions, and sauté 2 minutes.
Add shrimp and garlic, and sauté 2 minutes or until shrimp are lightly browned.
Stir in chicken broth, lemon juice, and hot sauce, and cook 2 more minutes, stirring to loosen particles from bottom of skillet.
Spoon shrimp mixture over hot Cheese Grits; sprinkle with crumbled bacon.
For Cheese Grits:.
Bring first 3 ingredients and 1 1/3 cups water to a boil in a medium saucepan over medium-high heat; gradually whisk in grits. Reduce heat to low, and simmer, stirring occasionally, 10 minutes or until thickened. Stir in Cheddar cheese and next 3 ingredients.