vrvrvr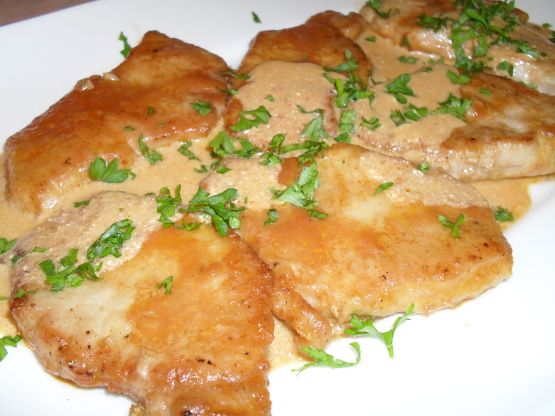 As requested, a meat recipe for 2 servings. I'm sure the recipe could be easily doubled or tripled. From Country Woman magazine, posted by Alpha. Lower in fat.

I easily doubled this recipe for my family of 4. The sauce is wonderful and this is a quick and easy recipe. I served this with linguine and zucchini. Thanks Martina, this is a keeper.
In a resealable plastic bag, combine flour and pepper.
Add pork chops and shake to coat.
In a small nonstick skillet coated with nonstick cooking spray, brown pork chops on both sides.
In a small bowl, combine the broth, ketchup, Worcestershire sauce and mustard; pour over pork and turn to coat.
Reduce heat; cover and simmer for 20-30 minutes or until meat is tender.
Remove chops and keep warm.
Reduce heat to low.
Stir in sour cream into pan juices; heat through (do not boil).
Pour over chops.