VickyJ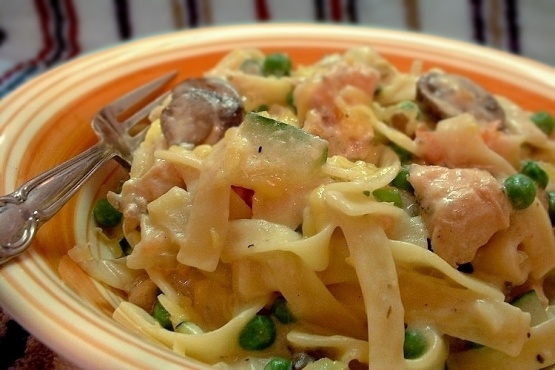 This is a real good way to use leftover salmon. The creamy sauce compliments the salmon beautifully.

Hi, Inez. I made this last night. I had some grilled salmon left over, and some cooked fettucine noodles in a ziploc. I started looking for something to do with it and came up with this recipe. It was just the thing I was looking for! Very good. (I left out the peas, though. PTOOEY!)
Cook fettuccini according to package directions.
In lg skillet, saute mushrooms, zucchini and onions in butter until crisp tender.
Stir in flour.
Add cream; bring to a boil.
Cook and stir 1 minute.
Add salmon, peas, tomato, parsley, and seasonings.
Cook and stir for 3 minutes.
Drain fettuccini; top with salmon mixture.