JustJanS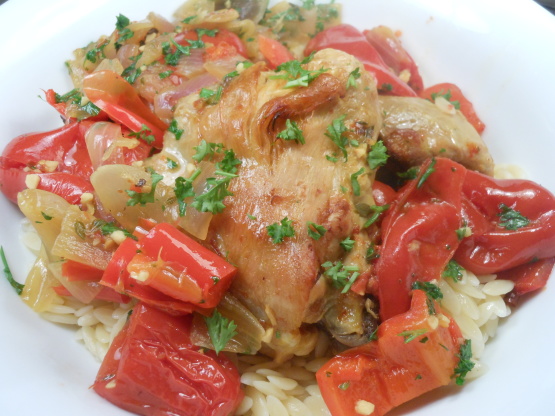 A quick, yummy and relatively low fat recipe. Serve it over risoni pasta if you like to soak up all the yummy juices.

Jan and Russel cooked this for me :), nothing better then having the chef actually cook the meal. They served it up and I never thought I would eat it all, .......BUT I did. It was a great winter meal, but with a "light" feel to it, every mouthful held all the different flavours! loved it, highly recommend! (PS dont over-cook the risoni)
Pre-heat oven to 175ºC.
Heat the oil in a fry pan and lightly brown chicken pieces. Place into a small casserole dish.
Cut capsicum and onion into large pieces, cook in fry pan for 2–3 minutes with thyme, chilli and garlic .
Add and saffron, stock and sugar, bring to the boil and pour over chicken. Sprinkle with cherry tomatoes and zest of lemon. Cover with lid or foil and bake for 45 minutes. Uncover and bake a further 15 minutes.
Sprinkle with the chopped parsley before serving over cooked pasta of your choice.