duonyte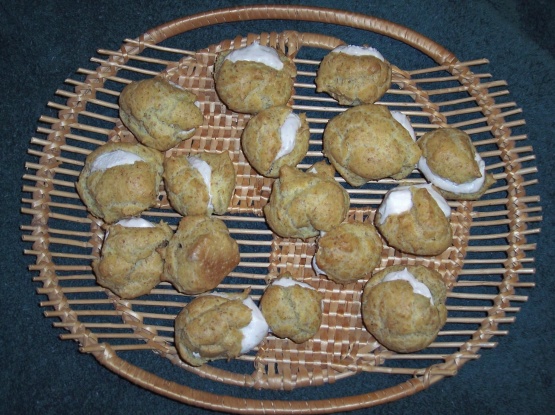 PERFECT bites for Super Bowl Sunday and St. Patrick's Day parties! I came up with this recipe years ago, and it won in Taste of Home magazine and Better Homes and Gardens magazine. It makes a lot, but they disappear FAST! Enjoy!

I was a bit disappointed after reading so many positive reviews. I had half the recipe leftover from the party so it seems they were only moderately enjoyed. However, I think the recipe has a lot of potential with a little tweaking.
The puffs themselves were wonderfully light, however the caraway seeds fell off when slicing them open. Next time I would mix some caraway seeds in with the dough, and sprinkle a few on top for presentation, pressing them in lightly. The rye flavor was lacking, and it seemed the puffs needed a bit more body to stand up to the thick filling, so I will adjust the rye/white flour ratio next time.
I used more corned beef than called for. I had a lot of filling left over, even after generously filling the puffs. It tasted much better the day after, so I would make it ahead of time. I will also try to reduce the cream cheese and replace it with a bit more sour cream or mayo to lighten the thickness. I may also whip it with the mixter to lighten.
In a saucepan over medium heat, bring water and butter to a boil.
Add flours, parsley, garlic powder and salt all at once; stir until a smooth ball forms.
Remove from the heat; let stand for 5 minutes.
Beat in eggs one at a time until smooth.
Drop the batter by rounded teaspoonfuls 2 inches apart onto greased baking sheets.
Sprinkle with caraway seeds.
Bake at 400º for 18-20 minutes or until golden.
Remove to wire racks.
Immediately cut a slit in each puff crossways through center, but not all the way through, to allow steam to escape. (The top will open up like a cap.).
Let cool.
In a mixing bowl, mix well the first 8 ingredients, then stir in olives.
Open puffs, stuff with filling, lightly close tops of puffs over filling.
Cover, chill til serving.
Makes 4 1/2 dozen.