Roasted Red Pepper Potato Salad (Vegan)
luvcookn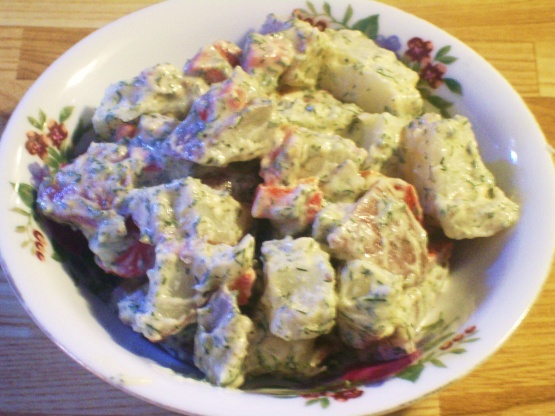 This is a recipe inspired by the only commercial potato salad I've ever liked, courtesy of my local food co-operative! It is delicious and you'll never miss the old standard version!

This is a lovely potato salad! Made as directed with one exception....I used regular mayo. For us it was a wee bit salty and I will cut the amount of dill to 1 tbsp. Love the red pepper and mayo mixture. Thank you for sharing...will definately be making again. Made for PAC Spring 2010.
Clean potatoes and cut into bite size chunks. Steam potatoes until tender, approximately 20 minutes. When finished, place in large bowl and allow to cool.
When potatoes are cool, add red onion and red pepper to bowl. Stir to mix and set aside.
In a smaller bowl, mix vegan mayo, white wine vinegar, brown mustard, and spices (EXCEPT paprika). Mix well and fold into potato mixture. Sprinkle with paprika (or, if you like some heat, cayenne pepper) and serve.