Raspberry Chipotle Cream Cheese Appetizer
gailanng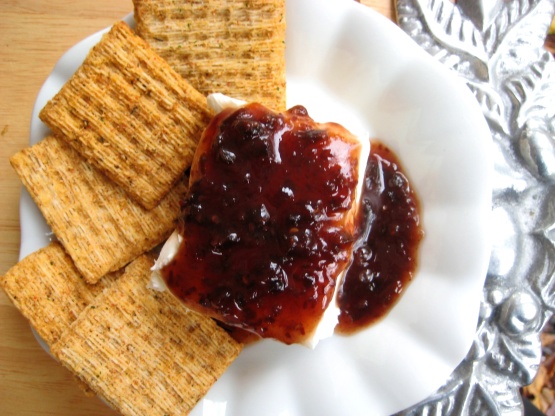 Simple yet delicious. You must try it; it is surprising how good it tastes. Serve with assorted crackers.

This is really delicious! My mother-in-law made this and actually spread the cream cheese in a thin layer over a serving platter, with the sauce spread evenly over that. She served it with Frito's scoops, which are "sturdy" enough to handle scraping up the cream cheese, and taste great with the dip! She used Bronco Bill's brand of raspberry chipotle sauce. I am not sure where she purchased it, but I have been able to find it at World Market.
8

ounces cream cheese, room temperature
3⁄4 cup raspberry chipotle sauce
Place cream cheese on shallow serving dish.
Pour raspberry chipotle sauce over top of cream cheese and allow it to drizzle down sides.