Potato and Garlic Soup With Herbs
Bergy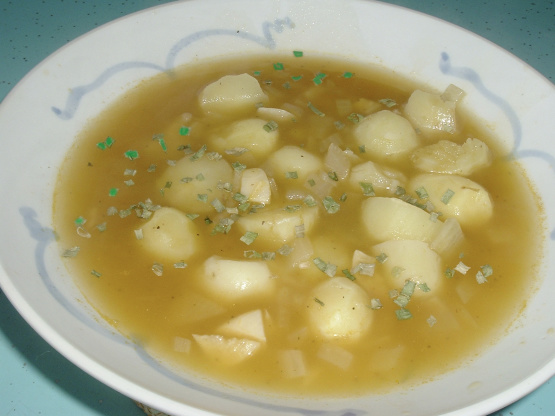 Great soup recipe, perfect for colder days.

This is a great soup and the bayleaf and thyme helps make it that way. I used fresh thyme and spring onions which were perfect. The amount made was easily polished off by two adults and a toddler. It is also a reasonably quick recipe and can be produced within the hour.
Heat olive oil in heavy large saucepan over medium heat.
Add onion, sauté until golden, about 10 minutes.
Add broth, potatoes, garlic and bay leaf; bring to boil.
Reduce heat to medium-low; cover and simmer until potatoes are very tender, about 20 minutes.
Cool slightly.
Discard bay leaf.
Coarsely puree soup in blender 1 cup at a time, about 20 seconds per batch (do not overprocess).
Return soup to same saucepan.
Season to taste with salt and pepper.
Simmer until heated through.
Ladle soup into bowls.
Sprinkle with chives and thyme and serve.