Skitty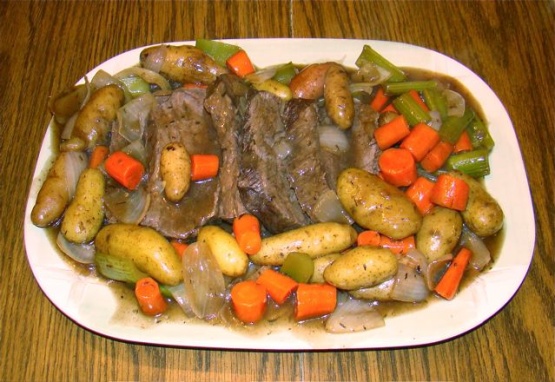 Top Review by VA3212
UPDATE - Made this again last night, made gravy with the juices by adding some cornstarch. I then took the left over gravy, pot roast (shredded) and vegetables and made the most awesome beef barley soup. Just add some water and barley and it's as easy and delicious as it can get! FINALLY!! I have been trying different pot roast recipes for years and they never seem to turn out. DH took one bite and said, "this is the one honey!". I used two 1-1/2 pound chuck roasts, added the herbs at the beginning, made the potatoes separate and thickened the juices with cornstarch for an outstanding gravy. Thanks for sharing!
In dutch oven, brown roast in oil.
Add onions and saute briefly.
Add broth; cover and cook on low for 2 hours;,add more broth if necessary.
Add all other ingredients.
Bring to a boil.
Reduce heat to low and cook for 1-1/2 hours more.