Amish Pot Roast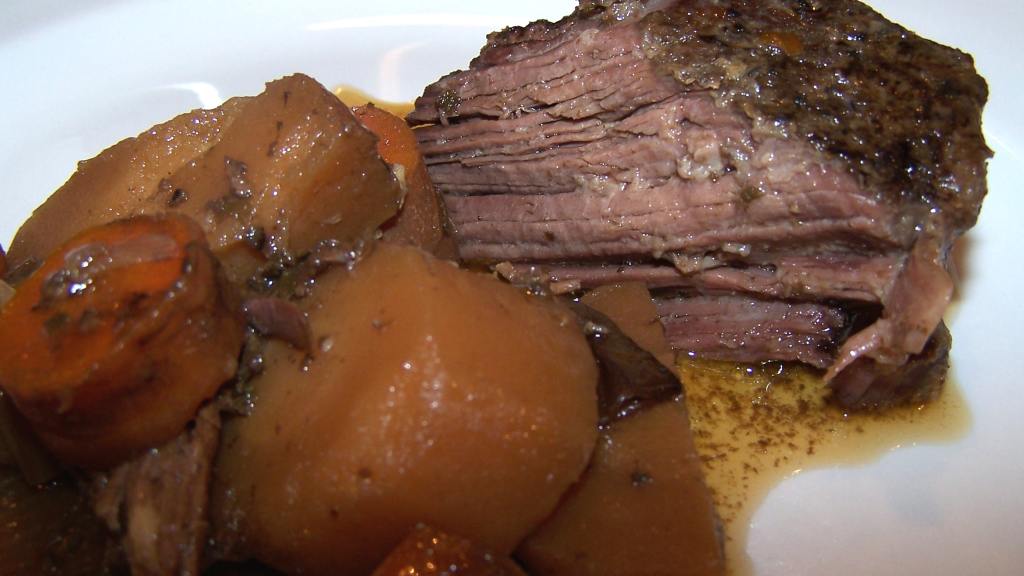 directions
Preheat oven to 300 degrees.
Do not pound or flour the meat. Heat oil in a heavy skillet over high heat, then sear meat on both sides.
Meanwhile, in a large roasting pan, combine soy sauce, coffee, bay leaves, garlic, oregano and one of the sliced onions.
Transfer the browned meat to the roasting pan.
Top with the second sliced onion.
Cover and bake for 3 1/2 to 4 hours, basting every hour with pan juices.
If the liquid begins to boil away, add another cup of coffee and a splash of soy sauce. You may need to repeat this procedure; there should be quite a bit of liquid.
Cut the meat in thin slices and serve with pan juices.
Submit a Recipe Correction
Join The Conversation
I dont understand all of the high marks on this recipe. I, too, searched the world over for the perfect pot roast recipe and found it a few years ago. (http://www.tasteofhome.com/recipes/slow-cooker-short-ribs, works marvelously on pot roast, too). I love Amish cooking, so when I saw this recipe a few days ago I ran right out to buy beef. This is not for me. Good Luck. SMH.

I have made this recipe again and again. I searched for the perfect pot roast recipe for YEARS, and once I made this, I never looked back. I add chopped onions and celery as a bed for the roast to cook on after searing. I brew very strong coffee and never detect coffee in the sauce. We serve it over mashed potatoes, as the gravy is perfect for that. We are on a low sodium diet, so we use reduced sodium soy sauce and add pepper, but no salt. You would never know by taste that this is a low sodium meal! Delicious!

This is just...awesome! I found this recipe because I had some leftover coffee and boy am I glad no one drank that last cup! This was definitely a WOW. I had under a pound and a hall beef pot roast, grass fed, and halved the recipe to specifications. I too had just shy of the full measurement of soy sauce, and it was perfectly fine. The roast was moist enough that it didn't need any extra coffee or soy sauce added during the basting or to be drowned in onions to be great on its own. Speaking of onions, they were carmelized perfectly. The aromas were to die for while this was cooking all afternoon. <br/><br/>By the time it had cooked to the full four hours, the sauce was the right amount to baste the top and serve with nothing left to be wasted.This will become a heirloom recipe, I'm sure.