Boomette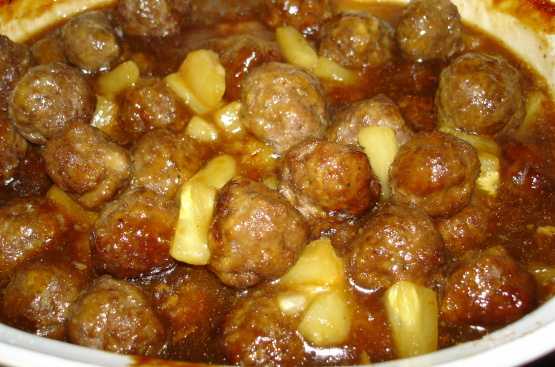 This is a family favourite; my teenage son eats at least 2 servings himself. Cooking time includes the browning of the meatballs, although you can brown them in the oven on a cookie sheet and make the sauce at the same time, saving yourself a little time.

Looked for something quick to fix as I was distracted with the "chatroom grand opening" and this really fit the bill. It was easy, fast and tasty. Cooked meatballs on cookie sheet as suggested and it worked out great. Made exactly as written except I added 1/4 tsp. red chili flakes to the sauce. Served with jasmine rice and a simple spinach salad. Next time I think I will cut back on the sugar a little and add diced and sauteed green and red bell peppers. Great addition to my stash of quick and easy recipes. Thanks Lennie!
Preheat oven to 350F degrees.
First, make the meatballs: combine all meatball ingredients (there's 7, beef to garlic powder) in a bowl and mix well; shape into 1-inch balls.
Brown them in a nonstick frying pan (I do it in 3 batches) until browned all over; drain on paper towel then place in a large ungreased casserole dish.
To make sauce, combine brown sugar and cornstarch in a large saucepan, then whisk in the 1-3/4 cup pineapple juice/water combination until mixture is smooth.
Add vinegar, soy sauce and worcestershire sauce; stir.
Simmer, uncovered, on medium-low heat for about 8 minutes, or until thickened.
Pour sauce over meatballs and add pineapple tidbits; stir gently to combine until meatballs are coated with sauce.
Bake in preheated oven for 30 minutes.
If you want a lot, this recipe doubles well.